11 Dragons invited to state combine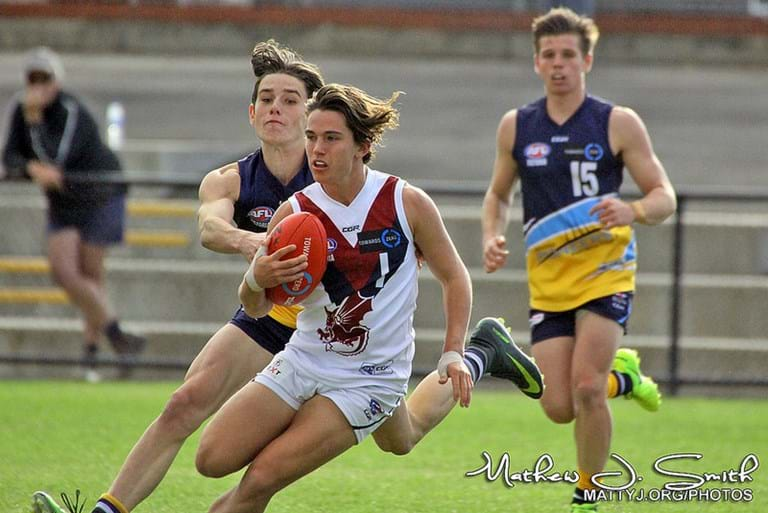 11 Sandringham Dragons players have been invited to the 2017 State and 'Rookie Me' draft combines to be held ahead of the NAB AFL Draft periods later this year.
Joel Amartey, Sam Cameron, Jackson Hille, Quintin Montanaro, Geordie Nagle, Ed Newman, Kai Owens, Seb Williams, Hamish Brayshaw, Lachlan Harris and Aaron Trusler are among the 96 players from around Australia invited to the combine.
Players must receive at least two expressions of interest from AFL clubs to be eligible for an invitation for the combine.
The combine will allow further opportunities for AFL recruiters and clubs to test potential draftees on a range of skill, fitness and agility tests. The 'Rookie Me' combine allows for a further 23 draft prospects to be tested after number restrictions at Etihad placed a cap on testing levels.
See the full list of invites below:
Victorian State Combine (55):
Joel Amartey (Sandringham Dragons)
Noah Answerth (Oakleigh Chargers)
Mark Baker (Northern Knights)
Oskar Baker (Aspley)
Harry Benson (Geelong Falcons)
Brett Bewley (Williamstown VFL)
James Bell (Sydney Swans Academy)
Tom Boyd (Murray Bushrangers)
Alex Boyse (Essendon VFL)
Sam Cameron (Sandringham Dragons)
Riley D'Arcy (Dandenong Stingrays)
Aaron Darling (Dandenong Stingrays)
Sam Davidson (Gold Coast Suns Academy/Palm Beach)
Lewin Davis (Bendigo Pioneers)
Max Dreher (Northern Knights)
Alex Federico (Northern Knights)
Bayley Fritsch (Casey Scorpions VFL)
Bailey Griffiths (Marcellin College)
Harrison Gunther (Glenorchy)
Jackson Hille (Sandringham Dragons)
Nick Hind (Essendon VFL)
Jake Hinds (Tasmania)
Austin Hodge (Gippsland Power)
Dane Hollenkamp (Geelong Falcons)
Nick Hogan (Gippsland Power)
Josh Jaska (Geelong Falcons)
Daniel Johnston (Murray Bushrangers)
Riley Jones (Oakleigh Chargers)
Matthew King (Oakleigh Chargers)
Dylan Landt (Calder Cannons)
Jy Lane (GWS Giants Academy/Murray Bushrangers)
Doulton Langlands (GWS Giants Academy/Murray Bushrangers)
Quintin Montanaro (Sandringham Dragons)
Thomas Mundy (Burnie)
Tom Murphy (Dandenong Stingrays)
Geordie Nagle (Sandringham Dragons)
Joel Naylor (Northern Knights)
Ed Newman (Sandringham Dragons)
Harrison Nolan (Eastern Ranges)
Connor Nutting (Gold Coast Suns Academy)
Kai Owens (Sandringham Dragons)
Alex Paech (GWS Giants Academy/Murray Bushrangers)
Cassidy Parish (Geelong Falcons)
Ethan Phillips (Oakleigh Chargers)
Callum Porter (Gippsland Power)
Aiden Quigley (Gippsland Power)
Nathan Richards (GWS Giants Academy)
Harry Simmington (Gold Coast Suns Academy/Labrador)
Derrick Smith (Richmond VFL)
Cooper Stephens (Geelong Falcons)
Aidan Tilley (Calder Cannons)
Laitham Vandeermeer (Murray Bushrangers)
Callan Wellings (GWV Rebels)
Seb Williams (Sandringham Dragons)
Tristan Xerri (Western Jets)
South Australian State Combine (21):
Cameron Ball (Norwood)
Dom Barry (Glenelg)
Brodie Carroll (Norwood)
Oscar Chapman (North Adelaide)
Lochie Charlton (Norwood)
Tobin Cox (Glenelg)
Mitch Crowden (Sturt)
Sam Davis (Glenelg)
Bryce Denham (North Adelaide)
Liam Denton (Glenelg)
Jackson Edwards (Glenelg)
Stefan Giro (Norwood)
Isaac Hewson (Norwood)
Curtis McCarthy (Glenelg)
Thomas Schmusch (Woodville-West Torrens)
Josh Smithson (West Adelaide)
Jordan Sweet (North Adelaide)
Jake Weidemann (Woodville-West Torrens)
Jordan West (Woodville-West Torrens)
Patrick Wilson (Sturt)
Brandon Zerk-Thatcher (Sturt)
West Australian State Combine (20):

Christian Ameduri (East Perth)
Liam Baker (Subiaco)
Jordan Boullineau (Peel Thunder)
Ryan Burrows (South Fremantle)
Damon Cramer (Peel Thunder)
Patrick Farrant (Swan Districts)
Jonathon Frampton (South Fremantle)
Scott Jones (East Perth)
Zac Langdon (Claremont)
Tyrese Miller (West Perth)
Lachlan Mitchell (Peel Thunder)
Gordon Narrier (Perth)
Cody Nineytte (Perth)
Will Powell (Claremont)
Aaron Redhead (East Perth)
Zareth Roe (Perth)
Liam Ryan (Subiaco)
Haiden Schloithe (Subiaco)
Chris Scott (East Fremantle)
Taryce Stewart (Swan Districts)
Rookie Me Combine (23):
Kwaby Boakye (Gold Coast Suns Academy)
Hamish Brayshaw (Sandringham Dragons)
Damien Burke (Gold Coast Suns Academy)
Jack Clayton (Brisbane Lions Academy)
James Ferry (Essendon VFL)
Tom Freeman (Dandenong Stingrays)
Joel Griffiths (Geelong Grammar)
Jake Hardman (Sydney Swans Academy)
Matthew Harman (Northern Knights)
Lachlan Harris (Sandringham Dragons)
Marty Hore (Collingwood VFL)
Cooper Jones (Bendigo Pioneers)
Daniel Joseph (Aspley)
Francis Kinthari (NT Thunder)
Jordan Lynch (Eastern Ranges)
Josh Newman (Williamstown VFL)
Tony Olango (NT Thunder)
Kieren Parnell (NT Thunder)
Julian Patterson (Gippsland Power)
Kieran Strachan (Essendon VFL)
Sam Switkowski (Box Hill VFL)
Charlie Thompson (Oakleigh Chargers)
Aaron Trusler (Sandringham Dragons)