Bushrangers avenge 2016 grand final loss defeating sandringham Dragons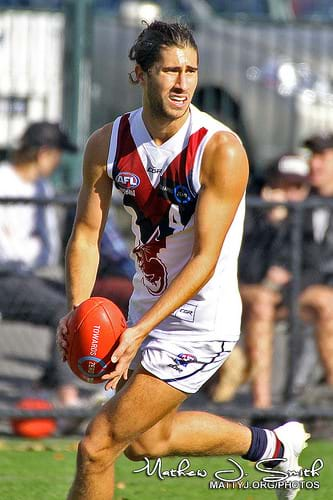 Round 7 marked the second and final country road trip for the Sandringham Dragons. The players hopped on the team bus at 6am in pitch-black darkness in pursuit of a victory in a vital grand final rematch against a hungry Murray Bushrangers outfit seeking redemption.
The three and a half hour drive to Wangaratta gave the players an appreciation for what the Murray Bushrangers players have to endure on a weekly basis and the mental fortitude involved in suiting up against elite opposition with minimal rest ahead of a match. The boys had the privilege of playing the curtain raiser to the main event of the day — Collingwood VFL v Werribee which promoted the sport in Wangaratta in partnership with the AFL's Country Round initiative.
At the end of the first quarter, the Dragons and Bushrangers were on even terms with 27-points apiece on the back of goals to Hamish Brayshaw (two for the quarter), Hayden McLean and debutant Adam Forbes.
The Bushrangers stole the show in the second quarter creating a 27-point buffer. A goalless second quarter saw a lapse in concentration from the Dragons with a number of uncharacteristic errors made due to the frantic pressure applied by the Bushrangers. This consequently affected our structures around the ground and our trademark ball use. Unfortunately the Bushrangers were able to capitalise on their forward 50 entries with 4 goals.
An improved third quarter led to us trailing by 32 points at the final break with the solitary goal coming from Ari Sakeson.
The fourth quarter saw a spirited fightback from the Dragons, displaying signs of the Dragons brand of football that they pride themselves on bringing to the table every week. The Dragons scored four goals within the opening ten minutes of the quarter to reduce the deficit to 8 points and bring the game back in the balance. Hamish Brayshaw and Aaron Trusler were the catalysts to our comeback with Brayshaw's midfield exploits evident where he was able to evade opposition players and surge the football inside 50 inside 50 to our advantage. Trusler's composure and general footy smarts in congested spaces allowed him to snap two wonderful goals in quick succession. This was only for the Bushrangers to run away with the game in the dying minutes once the Dragons had run out of legs for us to eventually fall short by 23 points.
Hamish Brayshaw continued his fine form and was adjudged a fourth consecutive Sportsmart Best on Ground award with 32 disposals, 11 marks, 8 tackles and 2 goals. Debutant Jack Denborough (9 disposals, 2 inside 50's and 1 score assist) put in an encouraging first-up performance and was presented with the Fin Fitness Coaches Award.
| | | | | |
| --- | --- | --- | --- | --- |
| | Q1 | Q2 | Q3 | Final |
| Sandringham Dragons | 4.3-27 | 4.4-28 | 5.8-38 | 9.12-66 |
| Murray Bushrangers | 4.3-27 | 8.7-55 | 10.10-70 | 13.11-89 |
Sandringham Dragons
Goal Kickers: H. Brayshaw 2, A. Trusler 2, A. Forbes, A. Sakeson, H. Persson, J. Rendell, H. Mclean
Best Players: H. Brayshaw, H. Mclean, M. Lohan, L. Barrett, J. Denborough, A. Forbes
Murray Bushrangers
Goal Kickers: R. Bice 3, D. Johnston 3, H. Garoni, J. Butts, Z. Barzen, T. Boyd, B. Paton, R. Bruce, J. Lane
Best Players: Z. Barzen, S. Beasley, R. Bice, K. Clarke, N. Oakes, W. Donaghey
Kavisha Di Pietro