Dragons charge to 23-point win over Oakleigh Chargers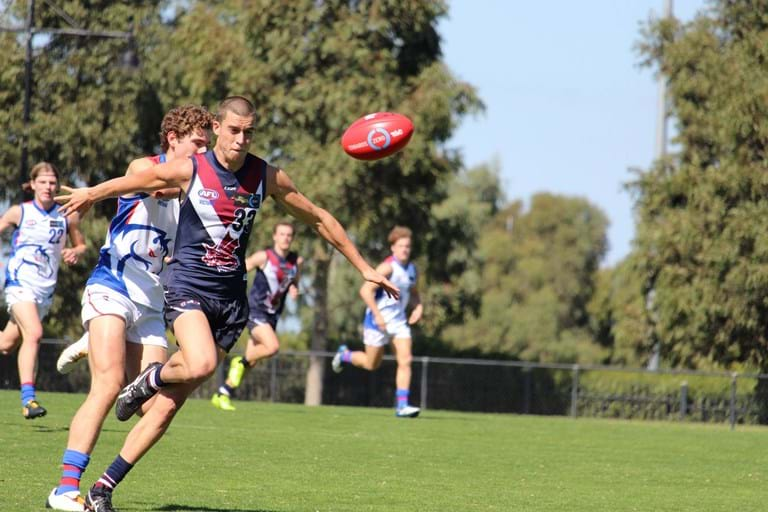 An eight-goal haul to forward Max King has helped the Sandringham Dragons to a 23-point win over the Oakleigh Chargers on Saturday.
In perfect conditions at RAMS Arena the Dragons struggled to make the most of their opportunities in front of goal kicking 5.6(36) in the first half, with King scoring 5.5(35) himself.
The Dragons burst out the blocks in the third quarter and a five-goal-to-one term gave the Dragons a healthy lead heading into the final change with second-gamer Jack Mahony kicking two goals at crucial times.
Sandringham coach Jeremy Barnard said he was proud of the boy's efforts to compete for four quarters and he wanted the boys to enjoy their hard-fought win.
"I thought it was a massively high standard and a ripping win … it was a hot game and quick conditions."
"In the first half, we were getting too many entries into our forward line that were coming straight out so after half-time we had to do a lot of work … we started to block the entries and our wingers played a massive role.
"Players like Kai (Owens), Sof (Sam Sofronidis), Hugo (Ralphsmith) and Darcey (Chirgwin) did a fantastic job.
"I thought there were a lot of fantastic performances today, some of the boys had quieter first halves and ramped it up in the second and others had good first halves and were able to transfer it into the second half to give us great depth throughout our whole side.
"I thought all-in-all we played to a Dragons standard … but it is round two and there are 16 games to go," he said post-match.
Alastair Richards was awarded the Coaches Award after gathering a career-best 26 disposals, seven inside-50s, two rebound-50s and two tackles.
"We bought Al in from half-back to play in our midfield (after captain Bailey Smith was a late out) … I thought Al stepped up and his on-field leadership was outstanding," Barnard said post-match.
Unsurprisingly, Max King was named the Sportsmart Best Player after amassing 19 disposals and nine marks to go with his eight-goals.
"I thought he was terrific today … defensively he worked really well too.
"It's very hard to match up on a 6ft8 forward who can mark the ball but I thought Max played a terrific game," Barnard said.
| | | | | |
| --- | --- | --- | --- | --- |
| | Q1 | Q2 | Q3 | Q4 |
| Sandringham Dragons | 2.6-18 | 5.6-36 | 10.7-67 | 13.11-89 |
| Oakleigh Chargers | 4.3-27 | 7.4-46 | 8.6-54 | 9.12-66 |
SANDRINGHAM DRAGONS
Goal Kickers: M. King 8, J. Mahony 2, B. King, J. Denborough, F. Maginness
Best Players: M. King, B. King, A. Richards, W. Kennedy, L. Stocker, K. Owens
OAKLEIGH CHARGERS
Goal Kickers: Z. Hart 3, B. Silvagni 2, J. Ross, K. Dunkley, W. Kelly, C. Whitehead
Best Players: T. Bianco, I. Quaynor, J. Rowbottom, R. Collier-Dawkins, B. Silvagni, M. Rowell
Words: Kavisha Di Pietro
Photos: Peter Williams/ AFL Draft Central