Dragons hold off fast starting Stingrays to remain undefeated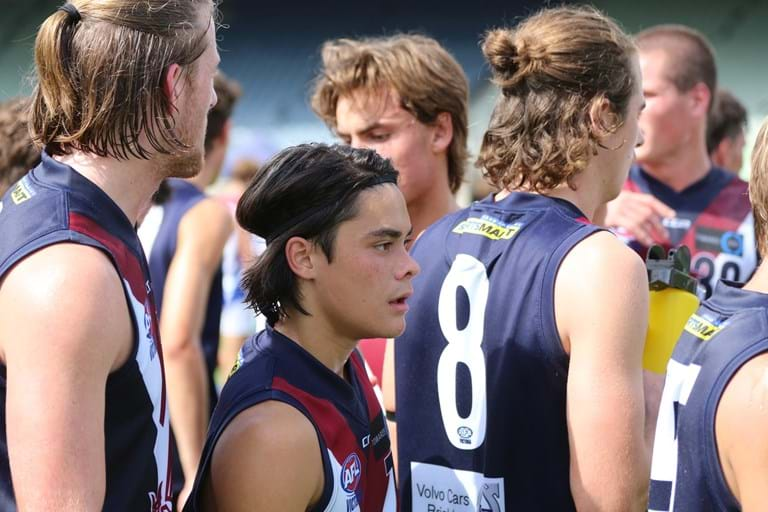 The Sandringham Dragons have continued their strong start to the season, despite making 13 team changes, beating the Dandenong Stingrays by 21 points at Frankston Oval on Saturday.
The Stingrays dominated for much of the first half before an eight-goal-to-three second half secured the Dragons fourth win for the season. Captain Hayden McLean set the Dragons second half scoring alight with two goals in as many minutes in the third quarter.
Coach Jeremy Barnard described the first half as a "game of ping pong" before the Dragons were able to take control in the third quarter when the game was there for the taking.
The Dragons were +14 in front-half turnovers allowing their forwards to compete and enabling the midfielders to set up going inside the attacking 50. Barnard said he was happy to capitalize on the scoreboard from much improved forward half pressure after lacking in the first half.
The club mantra of "next man up" was on show after the Dragons were forced to make a significant number of changes due to injuries and APS football commencing. Barnard said he was delighted to see debutants and first-gamers for the season playing their role within the team.
"[They] know the system and what we are trying to do so what it shows is that [they] are capable [of performing]."
Barnard said post-match that he was impressed with the performance of the team's leaders, with the likes of Will Walker, Lucas Barrett and Hamish Brayshaw bringing the Dragons back into the game.
Talent Manager Ryan O'Connor said the win made him proud of the program and what the club is achieving as a whole, in conjunction with the coaching team and support staff.
23rd man and debutant, Ryan Macdermid, was lively up forward kicking two goals from 50 per cent game time.
Dynamic small forward Aaron Trusler continued his strong start to the season kicking another bag of four goals whilst winger Quintin Montanaro gathered 19 kicks to go with seven inside 50s and four tackles.
Lucas Barrett was judged best on ground after a strong performance in which he gathered 25 disposals, nine tackles, seven clearances and five inside 50s.
Last years captain Hamish Brayshaw was award the coaches award after he led from the front gathering 28 disposals, eight tackles, seven clearances, five inside 50s and one rebound 50.
The Dragons now face Gipplsand Power (1-3) at Trevor Barker Oval on April 30 at 2:00pm.
| | | | | |
| --- | --- | --- | --- | --- |
| | Q1 | Q2 | Q3 | Final |
| Dandenong Stingrays | 4.1-25 | 7.3-45 | 8.6-54 | 10.9-69 |
| Sandringham Dragons | 4.4-28 | 6.4-40 | 11.4-70 | 14.6-90 |
Dandeong Stringrays
Best: H. Clark, W. Hamill, J. Davies, M. Cotter, M. DeWit, D. Morris
Goal kickers: D. Morris 2, H. Clark 2, B. Williams, T. Dekoning, J. Nanscawen, A. Zijai, T. Ellison, W. Smith
Sandringham Dragons
Best: L. Barrett, H. Brayshaw, H. Mclean, A. Sakeson, J. Hale, S. Sofronidis
Goal kickers: A. Trusler 4, H. Mclean 2, R. Macdermid 2, M. Lohan, N. Stamatis, A. Sakeson, J. Gibbins, J. Bakes, J. Paul
Kavisha Di Pietro