player focus: Izzy Huntington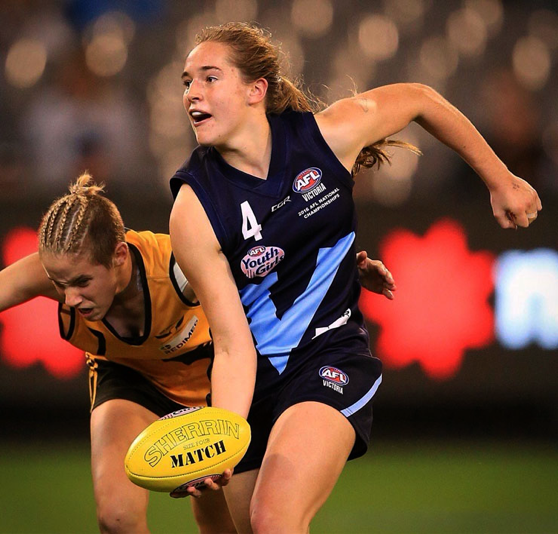 One year ago Izzy Huntington was living out her football dream. She was coming off her third Vic Metro Youth Girls championship and was named best on ground in the National Championships grand final after amassing more than 30 disposals and kicking five goals.
On-track to becoming the face of the Sandringham Dragons in the newly formed TAC Cup girls' league, Huntington tore her ACL playing in the under-18 curtain raiser to what would be the final AFLW exhibition match.
Fast-forward 12 months and having completed her rehabilitation, Izzy is fast becoming a household name. Widely touted as this years number 1 AFLW draft pick, the St Michael's Grammar School captain is taking it all in her stride.
"I am trying to stay focused on my studies and rehab and just keep that balance nice and intact and not worry too much about all the media because so much can change between now and the draft," she said.
"I think balance is important at this stage [of the year] and not getting too caught up in all of the media and the speculation."
Huntington, who has been playing football since she was five, said choosing to play football was the "natural progression" in her family.
With two older brothers, Fergus and Lachy, both playing for the Sandringham Dragons, Izzy was destined for TAC Cup.
"I went through the Auskick pathway with two older brothers … I just followed along with them," she said.
"I started playing Auskick and then moved up the ranks through the SMJFL and I am playing with Melbourne University now in the VFL women's league."
No stranger to the unique pathway to AFL football for women, Huntington spent majority of her junior career playing with boys.
"It was a little bit odd," she said upon reflection.
"It was a bit of a rarity for girls to be playing at that stage … I was the only girl in my team.
"It was a really good experience to be playing with the boys but I am glad that they now have pathways for girls and the leagues established."
Familiar with long-term injury, having broken her leg in the 2015 season, Huntington has utilized her year off from football to develop different aspects of her game.
"It's undoubtedly been tough but I have been able to work on parts of my game through doing rehab that I wouldn't have [otherwise]. It does bring up other opportunities and being in year 12 it all goes pretty quickly and time flies so I am almost back on the track now," she said.
Huntington looks to GWS Giants AFLW player Alicia Eva for inspiration and advice on developing her game.
"She has coached me since I was around 13 and now I am playing and training with her at Melbourne University so to be able to spend time working with her and now training with her has been awesome," Izzy said of her mentor.
"She is such a skillful and knowledgeable player."
Eva reciprocates those feelings for the versatile left-footer, describing her as "pretty exciting" on Fox Footy's AFL360.
"Even with a couple of injury setbacks we know she's an extremely versatile player. She's a left footer with beautiful skills.
"Because she's so versatile she could definitely go Pick 1," Eva said.
Not short on ambition, the 18-year-old has grand plans for her future post-VCE with university and studying medicine firmly in her sights.
"I definitely want to go and study at university next year," she said.
"I want to go down the university pathway and see where that takes me while hopefully balancing AFLW."
Kavisha Di Pietro