Olivia Vesely wins inaugural TAC Cup girls best and fairest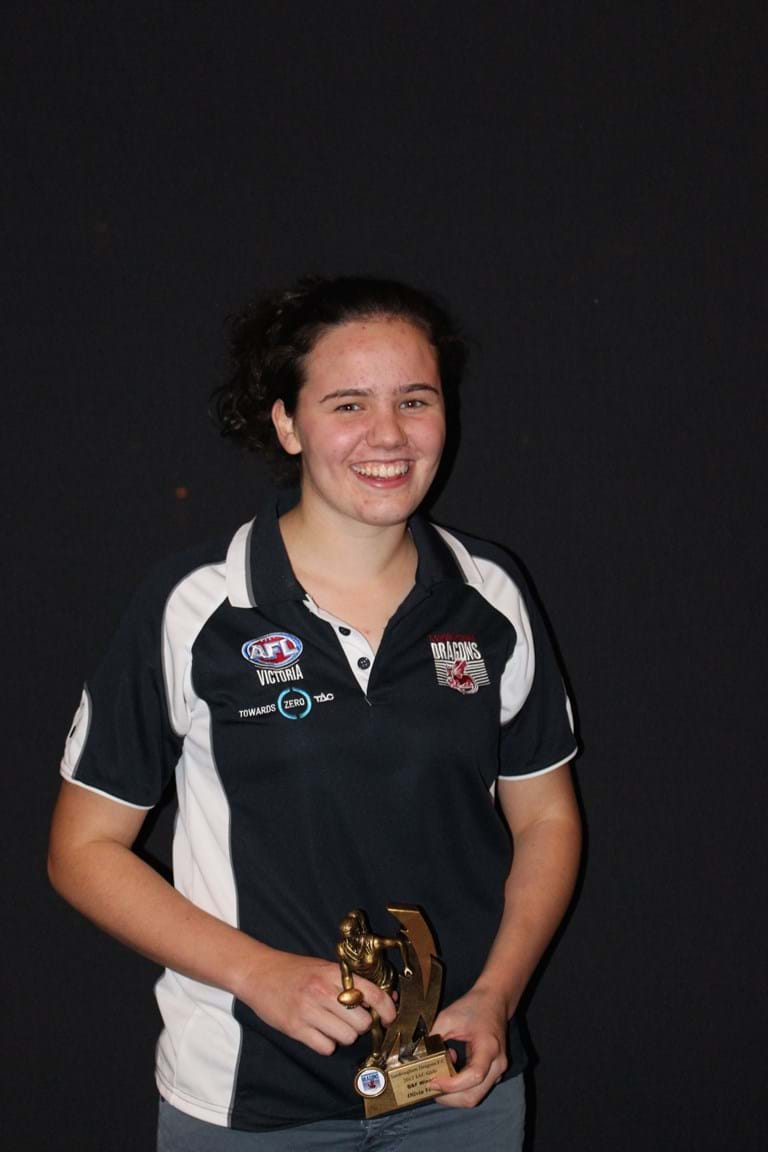 Olivia Vesely made history on Thursday night to become the first ever Sandringham Dragons TAC Cup Girls best-and-fairest winner.
Over 50 family, friends and Dragons staff enjoyed the awards night held at Sandy by the Bay.
The midfielder polled a staggering 42 votes across the five-round season to win the inaugural award ahead of midfielder Eleanor Brown on 21 votes and midfielder Georgia Ricardo on 16 votes.
Vesely capped off an outstanding first season polling in four out of five games, with best on ground performances in two of those games.
Leeann Gill described Olivia as "dynamite" after a stellar debut season in the TAC Cup.
"If Olivia can have confidence in her ability she can be anything… she has got pace, a fantastic kick and mark for her size, and what I like to call mongrel," Gill said.
Dragons coach Leeann Gill said she encouraged the girls not to think of the outcome but to enjoy playing football during their first season in the TAC Cup, allowing them to maximise their output.
"If I could leave the girls with anything from all of the years I have coached football and to any of the young people I am associated with, you have got to do what tickles your spirit," Gill said at the awards night.
"That is why I am still coaching after 21 years because coaching football and being associated with young people and helping them on and off the field tickles my spirit.
"When you come to the crunch and you have been hard on yourself, play football because you love it and play because you're passionate."
The Development Award was presented to Chloe Saultry, a player who the coaching team believed showed great potential on field and provided great support and assistance to the team.
Development coach Belinda Bowey said she was proud to see the girls improve over their short time at the Dragons.
"These girls have so much amazing talent … it is going to be really exciting when they join that main group and play next year," she said.
The leadership group presented the Leaders Award to Beth Supple; a player the five-woman group felt was selfless in putting Dragons first and always supported the club.
The leaders said Beth always applied herself and was dedicated and it reflected in the way she played her football.
The Dragons award was presented to Bryanna Arnold, the player who embodied the three-word mantra of brave, committed and united the most, whilst showing promise as a future player.
The final award of the night was the Coaches award presented to Chelsea Bowen, a player the coaching staff believed played to the best of her ability and carried out her role whilst also supporting her Dragons teammates on and off the field.
Assistant coach Danny Byrne said Chelsea was a "rock down back" and played her role every week, rarely losing a one-on-one contest.
Olivia, Georgia and Eleanor are part of the under-18 Vic Metro squad competing in the National Championships in June and July this year. Sandringham Dragons captain Isabel Quintal, Sophia Rothfield and Charis Ulu-Peniata are also part of the initial training squad.
Kavisha Di Pietro