Player focus: Alfie Jarnestrom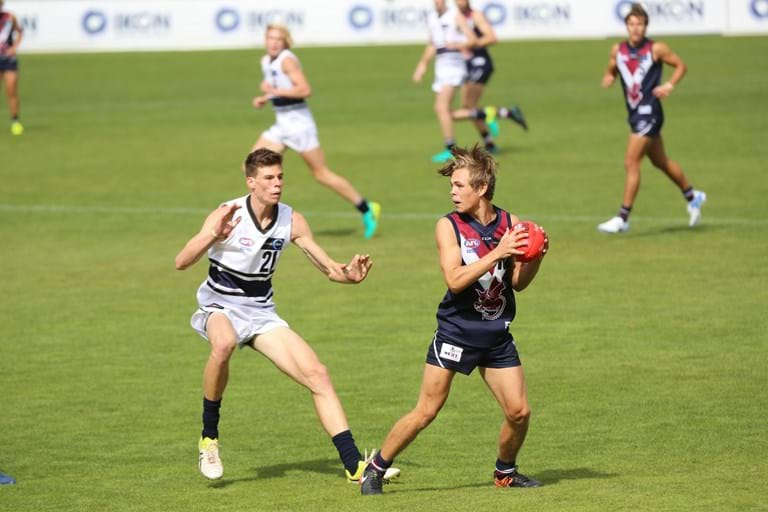 For Sandringham Dragons midfielder Alfie Jarnestrom, his top-age year hasn't been entirely smooth sailing after missing out on Vic Metro selection and struggling with illness throughout the season. But the Brighton Grammar student is taking it all in his stride.
Working with the Dragons coaching staff and strength and conditioning team, Jarnestrom has focused on making the most out of his time with Sandringham.
"I thought I could either feel sorry for myself and nothing would change or I could go and seek some feedback on things I needed to improve," he said.
"In doing so, I set some goals with coaches and did extra sessions to make sure my weaknesses became my strengths and my strengths became even stronger."
The two-time Brighton Grammar best and fairest winner has transitioned from a role at half back in the APS competition, to a move into the midfield and forward line during his time playing in the TAC Cup; a move Jarnestrom says has been able to showcase his best attributes as a footballer.
"I feel like I'm the most comfortable at half back and midfield as I've been playing there during my junior career and I feel like I can read the ball well (in that position).
"However, I have had the most impact as a forward and midfielder as that is where I can be the most damaging with my foot skills.
"I would say my composure (in games) and my decision-making are my best attributes," he said.
Sandringham Dragons assistant coach Jackson Kornberg echoes Alfie's statements about his ability to impact a game.
"Alfie is a class act," Jackson said during the season.
"He is determined and has a real desire to improve. While he's not ridiculously quick, he has the ability to see the game quicker than most and react to that.
"He's played midfield and forward for us and shown he's capable of having a significant impact in either position."
When looking for inspiration, Jarnestrom models his game off of the AFL's best small forwards.
"I like looking at players such as Michael Walters (from Fremantle) and Eddie Betts (from Adelaide) who have a big impact up forward by putting on pressure but are also able to go into the midfield an impact there as well."
Since returning to the Dragons line-up in round 12 against Gippsland Power, Jarnestrom has been nominated the Fin-Fitness best-on-ground player twice and slotted seamlessly back into the Dragons way of football.
Despite his strong run of form, Alfie says nothing has changed.
"Personally, not much has changed, I'm just really enjoying my footy at the moment and that has translated into good performances," he said.
"I'm going into every game confident in my ability to perform and execute the game plan."
A member of the 2017 Sandringham Dragons leadership group, Jackson describes Alfie as one of the best "decision makers" he has seen in his time at the Dragons.
"Alfie is a natural leader and is respected immensely by his peers, which is a credit to him and the hard work he puts in on the track and off field.
"I would regard him as one of the best decision makers without the ball that I've coached throughout my time at the Dragons … he just sees (the run of the game) before anyone else."
With his time at school drawing to a close and his VCE exams nearly upon him, Alfie isn't fazed by the pressures the combination of TAC Cup and year 12 present.
"I completed two ¾ (VCE) units by year 12 as I knew it would be a busy year and it has allowed me to use my spares effectively in school and not feel too stressed out (about the busy year)," he said.
"At the moment, I try (to spend my spare time) studying for exams but I love to play golf and hang out with friends."