Richards kicks on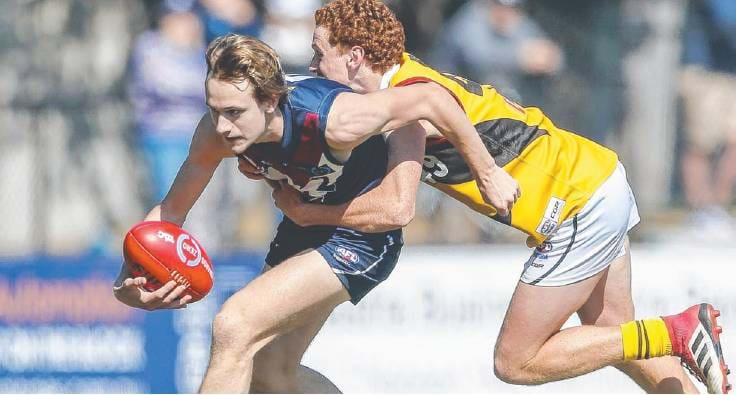 When Alastair Richards' name wasn't called out for the final Vic Metro team of the national championships, it would have been understandable for him to feel deflated.
But such is the character of the Sandringham Dragons midfielder, he fashioned the disappointment into fuel for his season.
"Although I didn't get to play the last game it probably wasn't much of a surprise because I knew I didn't have the best carnival up until that point," he said.
"Obviously I was pretty cut … but all of my mates and coaches really rallied around me."
Richards used the disappointment to propel him towards a stellar second half of the TAC Cup season, helping Sandringham to a third consecutive finals campaign.
The 187cm midfielder is averaging 22.8 disposals in his second TAC Cup season, ranking 13th in the competition.
As humble as he is talented, Richards credits his success to managing the stresses of Year 12 at St Kevin's College and playing APS football and the TAC Cup.
"For me, it was important when I wasn't playing to still attend the trainings," he said.
"So even though I wasn't playing games on the weekend (with the Dragons) it was still important for me to be chatting to everyone, keeping in contact and keeping upto-date with how the team was going so that when I came back into it, it wouldn't be a big surprise."
According to Sandringham Dragons and Vic Metro assistant coach Jackson Kornberg, hard work has been the key to Richards' growth in 2018.
"Al has really developed this year, he was lucky enough to play in our grand final side last year which I think gave him a great understanding of the level required to play a high-pressure TAC game," he said.
"He started this year across halfback but has transitioned into the midfield.
"He has been able to really use his weapons of speed and burst, especially out of the stoppage."
Despite a successful transition into the midfield, Richards believes he is most damaging off the halfback line.
As a bottom-ager he played in the Dragons' two-point grand final loss last year as the 23rd man.
"It was a good experience playing with top-agers, especially those really gun top-agers when they went into finals," he said.
"I felt like I could take some of the professionalism and their leadership in the finals last year to this season."
The guidance of players like last year's No 2 pick Andrew Brayshaw steered Richards in the right direction — he was named in the Dragons' leadership squad ahead of the season.
However, the most significant accolade for Richards was knowing his coaches and peers saw strong leadership skills in him.
"It was a bit of a pump-up because after the pre-season that is when you bond and so it was really nice of all the players to think that I would be a good enough leader for them,'' he said.
Richards was invited to test at the 2018 State Combine ahead of this year's national draft, and for assistant coach Kornberg, it was no surprise.
"He's certainly got AFL attributes, he played two games for Vic Metro and after missing the last game he handled the disappointment really well and to his credit came and really impacted back at the Dragons in the school holidays," he said.
"Above all, Al is a really respectable kid who is inclusive of all and he's terrific to have around the club."
Kavisha Di Pietro
Originally published in the Bayside Leader