Sandringham Dragons through to Grand Final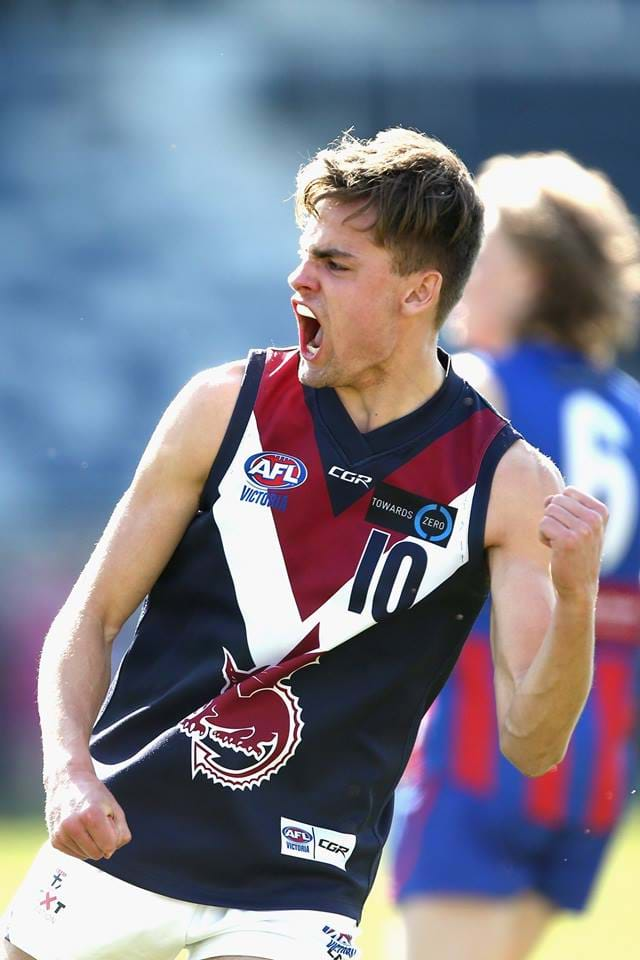 The Sandringham Dragons have stormed into their second consecutive TAC Cup Grand Final after defeating a competitive Oakleigh Chargers outfit by nine points at Simonds Stadium on Sunday.
In perfect conditions at Geelong, the Dragons got off to a flying start taking a 22-point lead into half time.
Hamish Brayshaw kicked the first goal of the game for the third week in a row to kick-start the Dragons preliminary final before Jack Higgins got Oakleigh on the board. Sandringham was wasteful in front of goal in the first quarter but a five-goal-to-two second quarter saw them take a healthy lead into half time.
Oakleigh came out firing in the third quarter kicking six goals in a row to take the lead before goals to Alfie Jarnestrom and Joel Amartey gave the Dragons some breathing space.
With their season on the line and a spot in the grand final up for the grabs, Sandringham dug deep in the final quarter to maintain composure and respond to every challenge thrown at them by the spirited Chargers team.
Coach Jeremy Barnard described the win as one of "great character".
"[The boys] could have easily rolled over when they were under significant pressure [from Oakleigh]," he said post-match.
"The players played the Dragons brand of football … [they] gave [themselves] the best chance [they] could and played fearless football.
"I couldn't be more proud of them," he said.
Talent manager Ryan O'Connor echoed similar sentiments saying post-match that the Dragons continue to show great character and stand up when it is needed most.
Seb Williams told TAC Cup Radio after the game that "everyone gave an even contribution" in order to progress through to the Grand Final.
"To get a win in the prelim everyone had to step up and everyone had to play their role that's why we got through today," he said post-match.
"Its great to play with these boys, the team is really strong and it lifts you to play better and makes it easy for you to play.
"We've had a theme to take on what the opposition throw at us and respond accordingly and we did that today … we will go into the grand final with the same attitude we had today."
Bottom-ager Ben King was named Fin-Fitness best player after a strong game in defense where he gathered 20 disposals and four rebound 50s. King was a pillar of the Dragons defensive unit, collecting 10 marks and positioning himself as an imposing intercept player.
In the post-match presentation, Barnard described King as a player with a lot of talent and tremendous upside.
"I have been really hard on him and will continue to be but he is really coming into his own."
Speaking with TAC Cup Radio after the game Ben King said it was "really pleasing" to see the boys efforts paying off with a grand final berth.
"The boys have worked really hard all year and to see that hard work rewarded with a grand final is really pleasing and the boys played really well today," he told Rick Morris.
"Full respect to Oakleigh they are a great team and they threw everything at us and even more respect to the [Dragons] boys for holding them off."
King attributed his best-on-ground performance to the other defenders being able to take the key forwards.
"A few of the other boys took the big key forwards which allowed me to run off and intercept but I couldn't have done it without the other boys."
Midfield Andrew Brayshaw was awarded the Sportsmart coaches award after a solid four-quarter contribution in which he gathered 25 disposals, seven tackles, six clearances and five inside 50s.
Sandringham will now face Geelong Falcons, who defeated the Dandenong Stingrays by 39 points, in the grand final this Sunday at Etihad Stadium from 7:25pm. The game will be televised live on Fox Footy.
| | Q1 | Q2 | Q3 | Q4 |
| --- | --- | --- | --- | --- |
| Oakleigh Chargers | 1.2-8 | 3.3-21 | 9.3-57 | 13.5-83 |
| Sandringham Dragons | 1.3-9 | 6.6-42 | 10.8-68 | 14.8-92 |
OAKLEIGH CHARGERS
Goal Kickers: J. Higgins 3, J. Hewitt 2, M. Rowell 2, C. Whitehead 2, J. Roughsedge, N. Reeves, E. Richards, X. O''Neill
Best Players: M. Rowell, J. Roughsedge, M. King, E. Richards, J. Troiani, L. Stacker
SANDRINGHAM DRAGONS
Goal Kickers: H. Brayshaw 2, A. Jarnestrom 2, A. Trusler 2, E. Newman, S. Williams, M. King, W. Walker, A. Styles, J. Amartey, A. Brayshaw, K. Owens
Best Players: A. Brayshaw, B. Smith, B. King, J. Amartey, A. Styles, H. Brayshaw