The team behind the team: Leeann Gill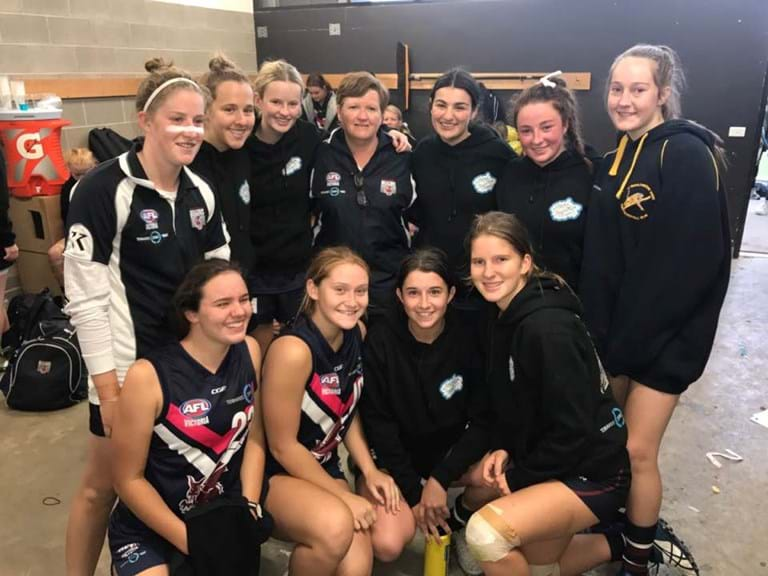 Leeann Gill has football experience few could match. Her resume is extensive and it is no wonder her simple philosophy of working with young footballers to help them develop on and off the field has made her the perfect candidate to be the inaugural coach of the Sandringham Dragons TAC Cup Girls squad.
The former Victorian Youth Girls team coach, who was coaxed out of retirement by her two adult children, said she couldn't miss the opportunity the new TAC Cup league presented.
"I thought 'I have been coaching for 21 years when girls weren't afforded the opportunity so why would I give it up now'," she said.
Gilly, as the girls affectionately know her, exudes a passion for women's football not often seen.
It is clear after spending 10 minutes with her that she puts her entire self on the line, aiming to help these girls achieve what was once the unachievable.
"The biggest lesson I give them is by actually being here. Someone my age, with two adult boys, who has gone through the whole game to actually be here," she said.
"I think the parents see it, and the girls see it too, because I do become emotional about it, we develop a relationship. The biggest lesson I can teach them is perseverance, opportunity and the fact that after 21 years, even though I had things said to me (about being a female in football), I am still here."
Gill, who grew up around football, began coaching in 1996 because her sons needed a coach for their VicKick team. Having been exposed to the game from an early age and learning the ropes from her dad who coached local teams, she reflects on telling herself she "never thought [she] couldn't coach football and [she] never ever thought that [she] shouldn't coach football."
Over time Gilly became accustomed to being the only woman in the room at coaches' meetings and presentations. It's therefore unsurprising that she has experienced sexism in sport more than many others who have come after her.
Gilly has a thick skin, and as someone who entered a "mans world," it is just as well. When she took over the under-9s, an opposition coach declared that she was incapable of doing the job because she had not "played the game."
When her team made the finals that year and his didn't, she proved the doubters wrong. "I've had coaches turn their backs on me and walk away when I went to shake their hand after the game," she recalls, "…usually when the team I coached had won."
Gill is renowned for setting as high a standard of professionalism for the girls as she can. The Caulfield Grammar teacher is a self-confessed educator and it reflects in the way she guides her team at the grassroots level.
"Lots of the girls have been coached but they haven't been educated about football, where to stand, that sort of thing," she said.
Her mantra is the same for whatever team she takes over.
"If you come out of this program having learnt one thing then we have done our job. With 34 girls if everyone learns something different, you have done an exceptional coaching job.
"Grassroots football is vital. The number one thing [about football] is learning the skills.
"When you start at grassroots and don't have to worry about winning and can actually teach these girls to kick a footy and mark in their hands then that's fantastic."
After over 20 years in the business, Gilly has adopted her own pre-game superstitions. She enjoys a cup of tea and an apple at three quarter time of the game before, or if there is no game, around 20 minutes before the bounce. A tradition, which is 21 years strong and something she says, has worked well so far.
Gilly believes it is important for the girls to listen to the voices of her coaching assistants before the game and her cup of tea gives the perfect opportunity to do so.
The successful development of women's football can be seen as a reward to Gill and her colleagues for their endurance and commitment to the game.
"I haven't been surprised of how many have come out [to play AFL] but I have actually been a little bit surprised that the introduction of the AFLW was so early."
"I didn't want people to think 'oh this is a load of rubbish,' I wanted people to go 'oh my god this is amazing.'
"I think the way the AFL have actually handled it has been amazing."
Now Gilly is looking towards the end of the TAC Cup girl's inaugural season, working towards ensuring each and every player on the Dragons list is "seizing the opportunity" to try and reach the "dangling carrot" of the AFLW.
By Kavisha Di Pietro