Where are they now: Alex Woodward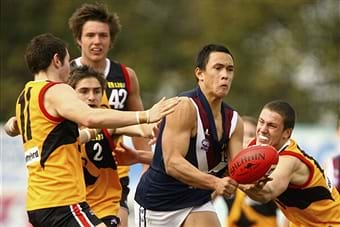 At just 23 years old and recovering from his third knee reconstruction, it would have been reasonable for Alex Woodward to give up on the game he loved. However, for the ex-Hawk the challenges he faced during his journey playing AFL encouraged him to keep on striving towards his dream.
The ex-Sandringham Dragon first ruptured his anterior crucial ligament in a practice match of 2012, before doing it again during a training mishap in 2013 and most recently during the 2015 season.
After returning to football last year, after over a year out of the game, he was delisted by the Hawks at seasons end. Naturally, for Woodward there were feelings of immense disappointment but he understood the tough decision made by the Hawks.
"It wasn't easy but I couldn't be more grateful for Hawthorn for looking after me and obviously developing me as the character that I am right now," he said.
"22 and three knee reconstructions on paper isn't a great look but for the club to stick by me through those and give me every chance to play football at the highest level … I was very thankful.
"Naturally it was a feeling of a little bit of disappointment but understanding as well."
After nominating himself for the 2016 National Draft but being unsuccessful in his bid, he has found himself a part of Collingwood's VFL team this season. Despite playing in one of Australia's most competitive leagues he isn't putting too much pressure on himself moving forward.
"[Playing] against some of the AFL listed players at VFL level is a good stepping stone to see where I am," the inside midfielder said.
"It will be good to challenge myself but I just want to get some consistency back and really enjoy my footy again."
Rehabilitation post surgery can often be the most daunting and isolating time for an athlete but for Woodward the support of his club, family and friends made the solo journey easier.
For Woodward, who has suffered more serious knee injuries than senior games played, the most recent bout of rehabilitation would be about making sure his knees could support the football career he desired.
"The third time around obviously it was a lot to take in … but I knew what I had to do with rehab and the steps I needed to take," he said.
"There was never any doubt that I wanted to give football up it was more the fact that I had to start again."
Hawthorn assistant coach Damian Carroll credited Woodward for maintaining focus during his rehab.
"Alex has never asked for pity, he's never asked for any extra special treatment, he's just continued to go about his business," Carroll told the Whitehorse Leader in 2016.
Woodward found that keeping himself busy outside of football was the most important aspect to staying sane. At the time of his injuries he was completing a real estate course and studying to become a mortgage broker.
"I really focused on my work-life balance … football was my work and outside of that I really wanted to get away from it.
"Things like study and family time really helped me with my recovery," he said.
When asked what the most memorable moment was in a career shattered by injury, Woodward didn't hesitate in saying it was finally getting "out on the park" when he made is senior AFL debut against the Sydney Swans at the MCG in 2014.
"I feel like after everything I went through my first few years in the AFL system to finally … represent the Hawks … is something that I will always remember."
A natural born leader and talented footballer, this years Dragons squad can look to Woodward for inspiration.
The former pick 53 in the 2011 National Draft went into the draft period with no expectations of being "picked up," despite captaining the Dragons to their second TAC Cup premiership.
"I was in a position where I didn't really have the luxury of knowing, I was just waiting come draft day."
"I didn't have an inkling in terms of a specific team … I just had hopes a club would take a chance on me.
And when the Hawthorn Football Club finally called out his name?
"It was a thrilling rush and I was happy to share it with my family," he said.
Having been through the TAC system, the Mazenod College graduate understands more than most the pressures facing Australia's next crop of AFL draftees; none more so than wanting to perform week in, week out to impress AFL recruiters.
"I have always thought I played my best footy when I was enjoying it and not putting too much pressure on myself," he said.
As for his number one piece of advice to this year's Dragons? To enjoy their time playing in the TAC Cup.
"It is quite a challenging time to put your name up for draft and wanting to play good every week but football is something you want to enjoy with your mates and teammates.
"I played my best footy when I was enjoying it and they should try and do the same … not put too much pressure on themselves."
Kavisha Di Pietro