Where are they now: Andy McGrath & Cameron Polson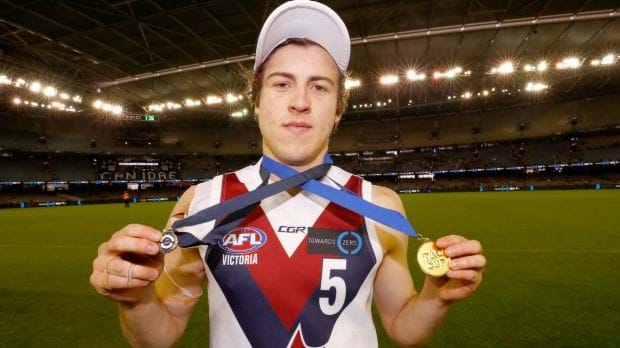 Sandringham Dragons assistant coach Jackson Kornberg spoke with ex-Dragons Andy McGrath and Cameron Polson about the transition to AFL football and their advice for this years Dragons squad.
Jackson Kornberg: we have two of our draft picks here from last year. We have Andy McGrath who went number one to Essendon Football Club and Cam Polson who went number 59 to Carlton. We have my most loved and my most hated club so we will see how we go with the questions. Boys, how are you finding it so far, in particular the transition from TAC Cup to AFL, specifically in terms of the training loads and the game education that you are getting?
Andy McGrath: I guess as Barney (Jeremy Barnard) said there are a lot of parallels between the TAC Cup education you get here and at AFL level. A lot of the terminology is a little bit different but the concepts are pretty much the same. In regards to training loads, coming to the AFL on a full-time basis is probably the biggest challenge. You train 5 days a week, its pretty strenuous and you get home pretty tired.
Cameron Polson: Yeah, I'm pretty similar to Andy. I found the transition similar and pretty easy. I think at the Dragons you're taught an AFL-type game plan and you notice it when you get to AFL clubs the kids that have come from regions where they haven't been taught a game plan or they play one-on-one everywhere they're sort of disadvantaged and you can really. You can really gain an edge on not just being a better footballer but also having a better football brain. I think that is one thing that has really helped me. I have picked the game plan up really quickly at Carlton because it is pretty similar to what the Dragons did.
JK: Going into being an AFL footballer there are a lot of things that people know but there are also a lot of things that people don't know as well. What is one little thing that you didn't realize was being part of an AFL footballer but now you know having been in the program for a couple of months.
AM: The hours you spend at the club. Everyone's dream is obviously to get drafted and then you get there and you go geez this is a lot harder than I probably thought at first. It is a fulltime job for us really, we love doing it and it is what we want to do every day for the rest of our lives but it is a hard gig and we do spend 8-9 hours at the club some days. It is hard sometimes, it is hard to get out of bed some mornings but at the end of the day we love doing it and we wouldn't rather be anywhere else. That has probably been the main challenge and the main thing you can expect walking straight into an AFL club.
CP: I'm exactly the same so I think just the hours you spend at the club. A normal day you get there at 7-7:30am and you're there until 5-5:30pm. It is not a walk in the park like everyone thinks. You are there and doing as much as you can to get better. One thing that is really good about it is that you only get out what you put in. If you see guys skipping ice baths or doing a better less and you are doing that stuff you know that you're going to get that edge. The hours at the club, being there full-time it is pretty full on and it's not just whilst you're at the club but when you are away as well, what you put into your body in terms of food and what you're doing on the weekends.
JK: I suppose especially in your top-age year it is a really juggling act in terms of school, family, footy and then you have to fit in a social life as well. For you two in particular, how did you find that balance in particular? Did you use any measures or different things to help you along the way?
AM: Yeah, it is a good question and it is probably something everyone going into year 12 wonders about how they'll cope. Early days I really struggled, I didn't think there were enough hours in the day, I was missing sleep and I got really sick before the start of the season. I think it was a combination of things, I wasn't sleeping enough, I was stressing about footy and about studies but one way I got through it, someone gave me a bit of advice, was to not stress about things that you have no control over. That was probably what was playing on the back of my mind throughout the start of the year. I didn't really know what was going to happen with footy and study was a bit overwhelming at the time. I think if I can give you all one bit of advice it would be to try and focus on the things you have control over. You don't have control over the things people say about you. Just take it week by week and control the things that you can control and I think it will lead to a less stressful year and you'll get the best out of yourself.
CP: You can't put all your eggs in one basket and footy is probably the worst one to do that if you are going to try and pick one. You need a break and to sleep and to see your friends as well so I guess you do have to make some sacrifices with social life a little bit but what I tried to do was get most school work done at school, then train for footy and if I needed to study when I got home I would do that. In my spare time I would try and get everything done so that it wasn't too much of a stress whilst I was at training and it wasn't hanging over my head all the time. That was my technique. Seeing your friends is a pretty easy part, you are playing footy with your mates and going to school with your mates so it's not like you aren't seeing anyone so I didn't find it too hard.
JK: Cam did a pretty bad dislocation with his shoulder last year, probably a third of the way through the year. He was in the initial metro squad, went down with the injury and then had to have surgery so he missed the entire national carnival and then didn't play a game for the rest of the season with the Dragons or school footy. When we talk about dealing with setbacks in a really important year, he has done really well and you just have to look at the insignia on his polo to know that he has worked really hard to get where he has. So, how did you manage with the setback of that injury and did you use any triggers to get back on task and keep you moving forward knowing the draft was at the end.
CP: I did my shoulder five games into last season and I hadn't played much for the Dragons or really been seen so I thought the dream was over but I think just setting myself long and short term goals and controlling what I could control because I couldn't play but I could get really fit, really strong and do my rehab really well to make sure it wouldn't happen again. They were my trigger points for moving forward and to keep a positive mindset. I did struggle watching metro from the coach's box and watching us win a flag from the sidelines but I took it as an opportunity to learn by sitting in the coach's box and educate myself. I did struggle initially and I found it really tough but that helped.
JK: Andy, there was a lot of expectation surrounding you last year during the nationals, you were talked up as a top ten and then as the year progressed you moved to the top five and then top three. In a really important year for your schooling life as well and having that expectation from the media as well, from your friends and even from yourself, how did you manage all that?
AM: I was pretty fortunate compared to a lot of the other high draft picks, other than Tim, I came on the scene about halfway through last year. I didn't have too much pressure on myself and I didn't really know where I sat at the start of the year so I came into the year pretty open minded and obviously my goal was to get drafted but for boys like Ben Ainsworth and Will Brodie who were hyped as number one and two picks for two or three years now they had it worse. Regarding expectations, they're placed on you all year. There is pressure in everything you do in year 12 and in your final year of footy as a junior so I think it is just something you have to live with. It is more a privilege than a hassle. That is how I looked at it. You would rather be in that position than another one and I tried not to think about things again that I couldn't control. I went about my schooling and my footy the way I knew I should and the way the coaches wanted me to so that is the main coping mechanism I sued. There is no secret formula to it, you are going to get nervous, you are going to get stressed out about what might or might not happen at the end of the season. Again, you have to control what you can control and the rest should take care of itself.
JK: Think back to this night last year when you were sitting in this room and what is one thing you wish someone had told you for that year that would've helped you in your Dragons season.
AM: That is a tough one and I think I have harped on it a little bit tonight but to just not stress yourself out about things that you have no control over. There is going to be a lot of talk about a lot of the boys in this room this year, good, bad and indifferent. It is just inevitable. Everyone picks apart your games in your final year and you can't really avoid. Last year if someone had of told to just keep playing your footy and to keep going the way you are going, to keep a good balance and not stress about the outcome I think I would have been a lot better off and wouldn't have stressed as much as I did. Take it slow and trust the process that it will all work out in the end.
CP: I think not putting limitations on yourself. As a bottom ager you can get a bit complacent when you think you've got time and might only play a handful of games this year but when you go into AFL 17-18 is not a big gap because suddenly you are competing for spots against 28 year olds. Don't limit yourself to that, really take it on. Two years is not a long time so be hungry, want to improve and really look for extra opportunities to become a better player. You are in a really good position at this program. I think as a younger kid you can leapfrog all the other regions with your ability and education.
JK: we are really lucky to hear from these two young men who achieved their dream of getting drafted. We have seen Andy play throughout the JLT Series and Cam debuted two weeks against St Kilda in the Carlton jumper. It has been terrific to have these guys back and talking to you and I think it's really important to listen to what they've said. We don't get them up here to waffle on. There is some substance in what they're saying so listen to it and thank you all for coming.