Will Walker on life at AFL level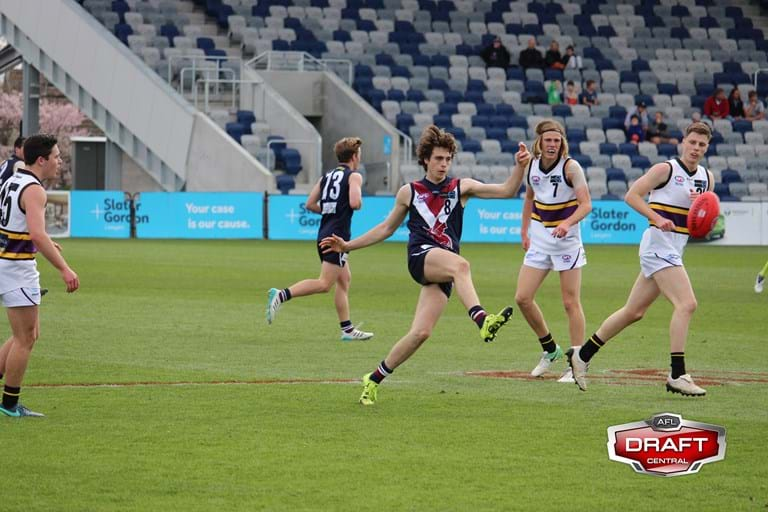 2017 Sandringham Dragons player Will Walker joined the squad to celebrate the start of the 2018 season at the Season Launch on Wednesday night.
Walker, who played with the Dragons as a bottom-ager and top-age player, was drafted to North Melbourne with pick 23 in last year's National Draft.
He spoke with Jackson Kornberg about life at the elite level.
Jackson Kornberg: how have you found your first few months at the club and what sort of stuff have you been doing?
Will Walker: my first few months have been really good and I have really enjoyed it so far. The process when you do get picked up is you get notified by the draft on the Friday, you've got club officials at your house on the Saturday and then you're in the club at 7am on Monday morning so it is a pretty quick turnaround but it has been really good. In the first week, I thought I was pretty fit but I got thrown in with the full team and full training for three days. The first week was really tough but that was a good learning curve. In my first session, I bent down to pick up a ball and got absolutely smashed by Scott Thompson and I got yelled at from the side 'welcome to the AFL Will' and I am on my hands and knees wheezing so that was a good experience. The first month before Christmas were great and I was training quite a lot but then after Christmas I got quite sick with glandular fever and am just getting back into full training now but I am really enjoying it so far.
JK: is there a player that has been mentoring you or looking after you? And if there is, what sort of stuff have they been teaching you?
WW: I haven't had a single player but players who play similar positions to me like Nathan Hrovat, Shaun Atley, Shaun Higgins, the guys in the mid-forward role. They have helped me and helped me learn the game plan so they have been fast-tracking my development in that sense and I am really grateful for that because I know what I am doing out on the track and now I can focus on my craft. Obviously with the skills they have been able to help and give my pointers about what I should be doing instead.
JK: Ryan O'Connor mentioned at the start that Will didn't make the Vic Metro squad and he came in the first couple training and played in the first practice match but unfortunately didn't progress forward but he still managed to get drafted quite high in the draft. How did you manage that disappointment to go ahead and perform for Dragons for the rest of the year?
WW: I was out of the loop for the U16s metro group because I didn't take footy as seriously back then as I was playing soccer but then going into my top age year I thought I was a bit of a chance and obviously was really excited getting selected in the initial squad. I trained for a week, played a game and then got cut. Obviously, I was quite disappointed but I was resilient and I went back to my roots and said 'well, why am I playing footy' and that is one thing I would say to the kids now is why do you play? You play because you enjoy it. I got the idea of getting drafted out of my head because it was playing on my mind quite a lot. I trained hard and worked on things which has paid dividends. I really loved being around here at the Dragons because I had a lot of mates.
JK: it is not just about performance on-field, there are a lot of off-field stuff like conditioning and well-being but what are a few things you are glad you did with the Dragons that prepared you for when you go to the AFL?
WW: the professionalism of the environment is really good. We are in 5-6 days a week and at the Dragons it was only three plus a game but even in the training sense and professionalism it was quite high.
JK: what do you wish you were told last year when you were sitting in these boy's seats before you got to the AFL?
WW: one thing I wish they told me was don't get sucked into all the draft hype that could be around you or your mates or jealous of them because I know at the start of the year I got sucked into all that and it played on my mind a lot because I really wanted it to happen but then I didn't get picked in Vic Metro and I felt like that shattered my dreams. After that I decided to not worry and focus on playing footy and enjoying it and if I could say one thing to you it would be to just enjoy your footy, enjoy being around your mates and if you work hard the rewards will come. Another thing I'd like to reiterate that Andy told me last year was to spend a lot of time with mates, family, schoolwork, university or TAFE and make sure you have a well-balanced life because studies have shown if you have balance you will perform better in whatever you are doing. Last year I focussed on school and that was my fall-back plan which ended up really helping me through the year and helped me play quite well.