2018 TAC Cup Girls Best & Fairest night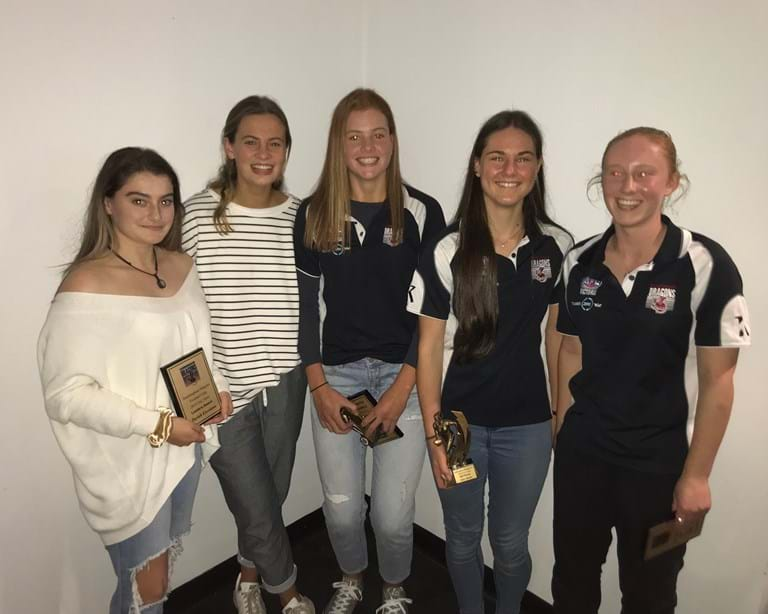 The 2018 Sandringham Dragons TAC Cup Girls Best and Fairest awards took place in Caulfield last night in front of friends, family and staff.
Alice Burke took out the club Best and Fairest award polling 21 votes across the season, just ahead of Eleanor Brown who won the Runner-Up Best and Fairest award with an impressive 19 votes.
Burke, daughter of St. Kilda legend Nathan Burke, won the club's top honour in her first year of football, an incredible achievement from the young star.
Brown also enjoyed a stunning season for the Dragons and stormed home late in the count to claim her award, as well as claiming the 'Dragons Award' for embodying the club mantra of united, ruthless and proud and showing promise as a future gun.
Forward Holly Bate (who finished third in the B&F count on 18 votes) won the club's goalkicking award with a whopping 18 goals for the season, which not only led Sandringham but topped the entire 2018 TAC Cup competition.
The coaches award was given to Bryanna Arnold who was judged by the coaching staff to have been remarkable in getting the best out of her ability and supporting her teammates on and off the field.
Taylah Ercolano won the leaders award, chosen and presented by the leadership group to the player who has put the team first, been there for everyone and one that they have been able to rely on throughout the year.
The development award was given to Sarah Hartwig, awarded to a player the coaches believe not only has great potential as a player on-field, but also someone who provided great support and assistance on match days and would train at a high standard every week.
Fifteen top-age girls were farewelled and wished all the best in their future football endeavours as part of the evening.
Our TAC Cup Girls team enjoyed a stellar 2018 season winning seven games and losing just the two, narrowly missing out on a spot in the grand final.
Thank you to all players, staff, sponsors, family and friends who assisted or supported the team in any way over the course of the 2018 season.
Sam Bunn