leadership group announced at season launch
Sam Bunn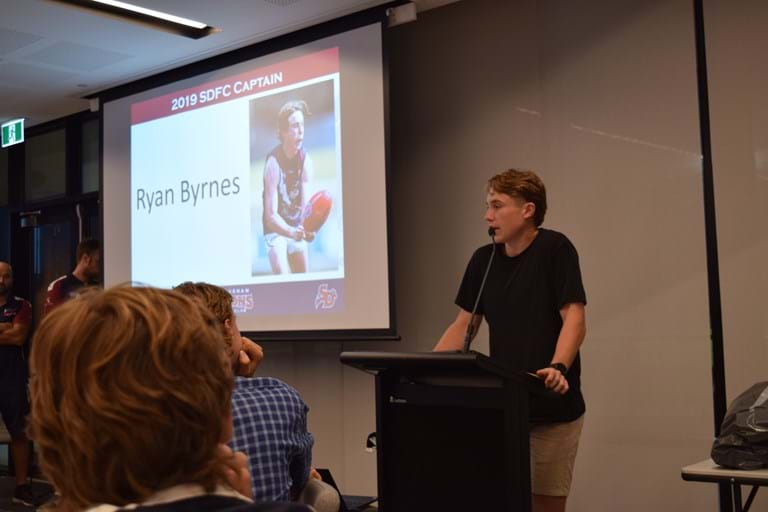 Midfielder Ryan Byrnes is set to lead the Sandringham Dragons in the inaugural season of NAB League Boys after being unveiled as captain at Thursday's season launch.
Byrnes enjoyed a stellar 2018 season for Sandringham, playing 12 games on his way to a third-place finish in the Best and Fairest.
Dragons head coach Josh Bourke said Byrnes' actions and dedication as a player and a person made him the obvious choice.
"We've been really big on 'little actions build to big things' and he's lived those values since the moment I walked in, he's set an example," Bourke said.
"He's absolutely respected by his peers and coaches."
Fellow midfielder Finn Maginness and key-defender Corey Watts were named vice-captains, cementing their place as vital components to a squad not short on young talent.
Watts' achievement comes off the back of his 2018 Dragons Best and Fairest award whilst Maginness has been a standout throughout the preseason according to Bourke.
"The hard work he's put in (Maginness) to improve his game rubs off on those around him when they see his development and his improvement…he's a great example of what hard work does," Bourke said.
Rounding out the leadership group are Jack Mahony, Hugo Ralphsmith and Nick Burke – all who Bourke spoke highly of.
Western Bulldogs draftee and 2018 Dragons captain Bailey Smith presented the leaders their jumpers on the night and spoke about the level of commitment and drive required to get the best out of yourself as a footballer.
Smith touched on the importance of focusing on getting the most out of every day and blocking out the external pressures that come with playing at a high level.
All primary list and development list players were presented their jumpers.
The Dragons' 2019 campaign gets underway at 10am on Sunday against Calder Cannons at RSEA Park, Moorabbin.