2019 NAB League Girls preview with tam hyett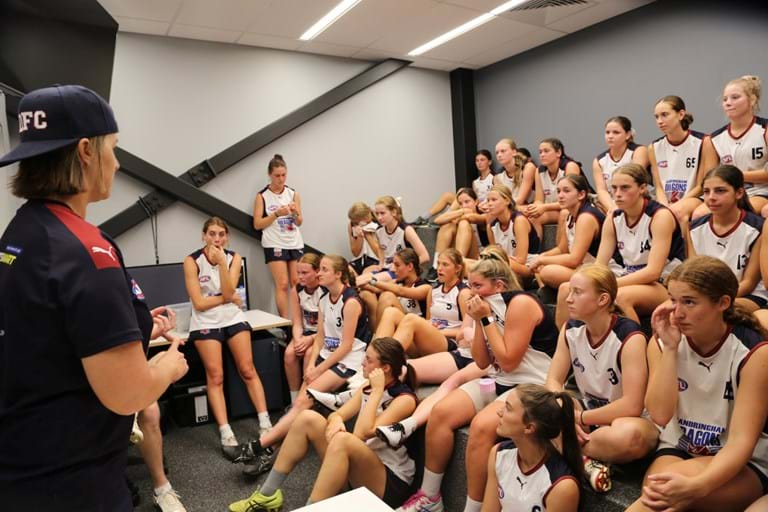 Sandringham Dragons U18 Girls coach Tamara Hyett spoke about how the team is shaping up ahead of season 2019:
What's impressed you most this pre-season?
"We've had a lot of girls who were part of the squad last year come back in really good shape and with improved skills which has been really pleasing – they've obviously gone away at the end of last season and continued to work on their football skills as well as their fitness. But we've also had an influx of new girls that have been able to lead the way at pre-season so what's impressed me most is that we do have the right balance between new players into the squad as well as players who've been part of the program. Our fitness has definitely come a long way since that first training session in November."
What goals has the team set for 2019?
"Individually if we can all improve, especially the fundamentals (that'd be a success). Success for us isn't about wins or losses it's about the ongoing development individually and as a playing group. We've already shown we're very capable of equalling or bettering our result this year. We've been able to maintain a really solid group of girls from last year who've really improved. If we can all improve across the board and just continue the development of the group who knows where we end up."
How would you describe our new leadership group?
Molly Denahy Maloney – "Molly's captaincy was a player-driven selection process so from a coaching point of view I think she was the ideal standout as far as captain material. When she speaks people listen and she's not afraid to speak. She also has a great work ethic, a real leader on and off the field – really encouraging and inclusive with all, she's just a genuine great girl and as I said the playing group and the coaches were almost unanimous that Molly leads our football club."
Gemma Strangio – "She just does everything right on and off the training track. Really encouraging, really focused on gameday and also helps out down back where she's a leader. She's uncompromising - just goes about her business and is a hard worker."
Soph Rothfield – "She's grown since day one of pre-season, she's always had the leader in her being a bit of an extrovert and a joker but she's really knuckled down and has grown so much. She's realised the responsibility of someone who's been in the program for a while and has really stepped up with her voice in training and on-field."
Alice Burke – "Alice was our best and fairest winner last year and whether it's the first minute or last minute of training that effort and intensity that she trains at and leadership qualities are really on show."
How do you see the development of women's footy in our region?
"It's developing fast, as far as participation it's grown immensely in our corridor. Girls now are coming into the program who have been playing football for a couple of years so the understanding and increased footy IQ of girls new to the program has definitely been fast-tracked. It's only going to improve and get stronger, the girls coming through now as far as community football goes start playing at an early age which only benefits our program."
The Dragons kick off their NAB League Girls season on Sunday 3/3 against Geelong Falcons.
Sam Bunn