Hanrahan makes up for lost time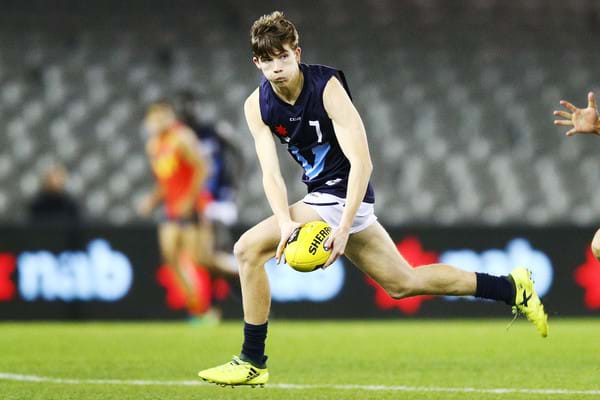 Angus Hanrahan's return to the Sandringham Dragons in 2018 proved a remarkable success.
After developing in the Dragons junior pathways before missing out on a list spot and the opportunity to play TAC Cup football as a bottom-ager last year, Hanrahan found an extra gear and earned his way back into the program.
The creative half-forward burst onto the scene playing all across the ground for the Dragons before settling in an attacking role, culminating in two best-on-ground displays in the middle of the year.
Round four in a loss against the Murray Bushrangers where Hanrahan kicked four goals in a struggling side was the first of the dominant performances, with the second coming against Geelong in round twelve where he slotted two clutch goals to seal a brave victory.
Hanrahan's season featured selection for Vic Metro at the National Championships and an invitation to the National Draft Combine, both achievements he was proud to tick off.
"Overall I was pretty pleased with my performance throughout the year, I achieved my target at the start of the year to make Vic Metro and get invited to the Draft Combine so I must've done ok at TAC level," Hanrahan said.
"There are a few games I wouldn't mind having back and fixing up but overall I was pretty pleased with the whole year."
Playing in the National Championships against the best young talent across the country and contributing strongly for Vic Metro gave Hanrahan the confidence required to take his game to the next level.
The 182cm youngster grasped the opportunity to play against Vic Country on the home of football, the MCG, highlighting his skill and composure on the biggest stage of all throughout the game.
"It was probably one of the best things I've done (playing Vic Metro), I'd never played state level footy before," Hanrahan said.
"To fly over to Perth and play at Optus Stadium was unreal and once I got into the game I felt like I was really capable at that level, I really enjoyed it."
Angus is the brother of Hawthorn's Ollie Hanrahan, whose experience in the AFL system has provided Angus with an in-depth insight into what it takes to make it at the next level.
Both Angus and Ollie are keen cricketers but seem to have found their calling in football.
Having shared a bedroom up until this year, they're are a tight-knit duo and push each other to get the best out of their footy.
"I'm really close to Ollie, he's definitely someone I look up to and who really helps me out with my footy," Hanrahan said.
"We always go down to the park to have a kick of the footy and go for a run, he just wants to get the best out of me.
"He's told me how hard it is and how hard you have to work, you can't slack off or fall asleep for a second, you've got to be switched on the whole time or else you get found out."
Despite idolising his older brother, Hanrahan says he particularly admires the way Toby Greene goes about his football, "playing on the edge" and bringing the excitement that he too aspires to deliver.
Sandringham Dragons Assistant Coach Fraser Cameron worked closely with Hanrahan throughout 2018 and noted his rapid improvement after missing out on the final list last year.
"He did preseason but we didn't go with him, we didn't see enough at the time to warrant him being listed but obviously that changed – he's proved himself to be very valuable as a top-ager," Cameron said.
Cameron explained how his switch from a small defender to the half-forward line for his four-goal outing vs Murray was the moment it became clear that it was his most dangerous position.
"We realised at round four that playing at half-forward was where we had to play him, prior to that we weren't sure, he stood out as someone who was comfortable as a creative half-forward," Cameron said.
"He's clearly an intelligent footballer who has a good footy brain and that's how I think he'll beat opponents, so that's why he's suited as a sneaky half-forward."
With the season wrapped up and the combine testing over, all there's left to do for draft hopefuls like Hanrahan is sit patiently.
A nervous wait it may be, but the silky forward can rest easy knowing he has the ability to match it at whatever level he ultimately reaches.
"It's always been something I've aspired to do since I was a kid (play AFL), it'd be an amazing achievement for not only myself but for my family, friends and coaches who've put a lot of work into me over the years if I did get picked up."
Sam Bunn