Smith sets himself for even greater heights
Sam Bunn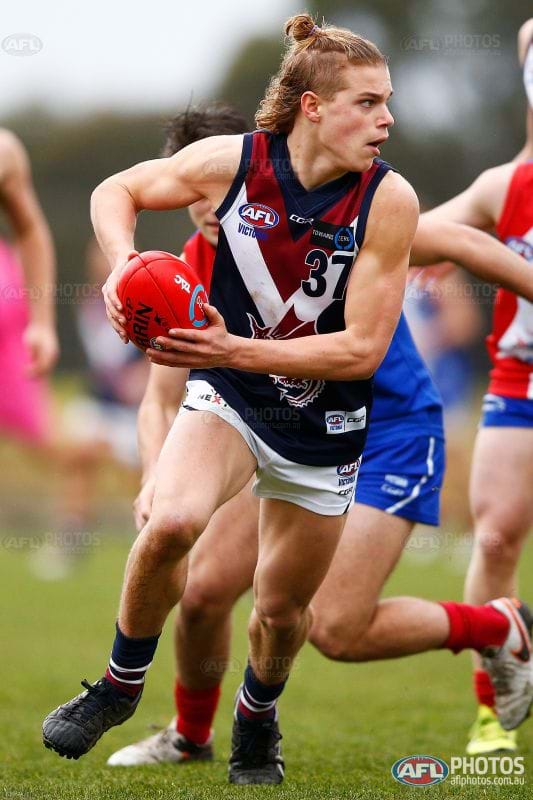 Bailey Smith has dreamed of playing AFL football since falling in love with the game at the East Malvern Knights as a seven-year-old.
And nothing will get in his way of making it a reality.
After making his TAC Cup debut last year as a bottom-ager and plying his trade as a half-back, the Sandringham Dragons captain has enjoyed a scintillating 2018 season as a star midfielder.
Smith received Vic Metro's Most Valuable Player award and was named in the U18 All-Australian team following a dominant National Championships.
He can do it all.
The 185cm gun wins the hard ball, breaks lines with his pace, defends ferociously, kicks goals and most importantly gives his all every time he steps out onto the field.
A trip to the Tiwi Islands late last year as part of an AFL Academy training camp in Darwin was a catalyst for Smith's rise.
Being exposed to the difficult living conditions of the children reminded Smith of how fortunate he was to have the opportunity in front of him to chase his dreams.
"For me it was probably one of the best experiences I've had in my life, seeing how happy the kids were at the Tiwi Islands when they don't have as much as we do really put into perspective for me how grateful I've got to be," Smith said.
"We got to go visit this school and the kids' positive energy and outlook on life made our problems at home and what we face day-to-day really like nothing."
Smith returned an inspired young man, completing a self-driven arduous preseason to give himself the best opportunity to impress in 2018.
His dedication didn't go unnoticed either, with the Dragons bestowing him with the honour of captaincy believing his actions perfectly portrayed what it was to get the best out of yourself.
Smith said it was "an honour" to lead a side loaded with young talent.
"It's always been something that I've focused on (leadership), I've read a few books on leadership and tried to translate some of that into my footy life," Smith said.
"It's relatively natural but this year it was certainly something that made me grow as a footballer but also as a person.
"Where I am now compared to the start of the year I've just grown so much, it's a credit to the coaching staff that helped me and all the boys who've supported me along the way."
Unfortunately for Smith, an achilles injury ruled him out of the latter stages of the season, which saw him miss the Dragons' finals series.
Being a competitive beast and a player who loves his teammates, watching from the sidelines pained him.
But he decided to use it as an opportunity to assist the young Dragons.
"Obviously it was killing me being on the bench," Smith said.
"My role was instilling confidence in the players, especially the bottom-agers because I remember last year playing a final you get pretty nervous."
Dragons Assistant Coach Jackson Kornberg, who Smith regards as one of his biggest influences, worked closely with Smith at TAC Cup and National Championship levels this year and saw his leadership flourish.
"Everyone has a different leadership style and Bails' leadership is based around influencing the lives of as many people as he can by doing the little things," Kornberg said.
"He really invested time in relationships with bottom-agers, which I think eased the nervousness of them being in a new environment.
"While 'Bails' only played two games with us this year, that didn't matter regarding his leadership – he still led the club as if he had played all year. If anything, his injury helped him form another dimension to his leadership."
Kornberg said the youngster showed "enormous growth" from 2017 to 2018, following the mould of former Dragons Andy McGrath & Andy Brayshaw in transitioning from half-back to the midfield and arguably making the easiest transition of the three.
The 'Navy Seal 40 per cent rule' is a philosophy Kornberg and Smith elected to implement this season, the theory used by the navy seals when you think you can't go any further you've actually only used 40 per cent of what you have.
It's a way of pushing through the limits of what you think you're capable of, and is a theory that's propelled Smith to greater heights.
"Bails and I sat down prior to National Champs and chatted about this philosophy, and about how he could get the most out of himself in the carnival, and we narrowed his focus down to three simple things; knowing your weapons, trusting your weapons, and the 40 per cent rule," Kornberg said.
"These were his triggers and we used them throughout the entire carnival to remind him how much further he could go at any moment.
"You just have to go and watch his last quarter in almost every carnival game to see he was the one that stood up and performed; I think having that 40 per cent mindset really benefited him."
With the AFL National Draft creeping over so close, Smith simply can't wait to crack in.
Not one to get ahead of himself, the powerful midfielder is still just hopeful of getting the chance to make football a profession.
There is one thing we know for sure though; whatever path Smith goes down his meticulous preparation, self-driven determination and care for those around him will see him thrive.
"Putting in that work and having confidence in yourself and the team goes a long way, knowing you haven't taken any shortcuts, that's something I'll keep instilled in me for the rest of my life," Smith said.
Adding: "As we get closer to the draft I'm a lot more excited than nervous, just being able to hopefully do what you love for a living is pretty cool to me.
"It's been something I've worked towards for ages – I just want to get it underway."