Corey Watts wins the 2018 Dragons Best & Fairest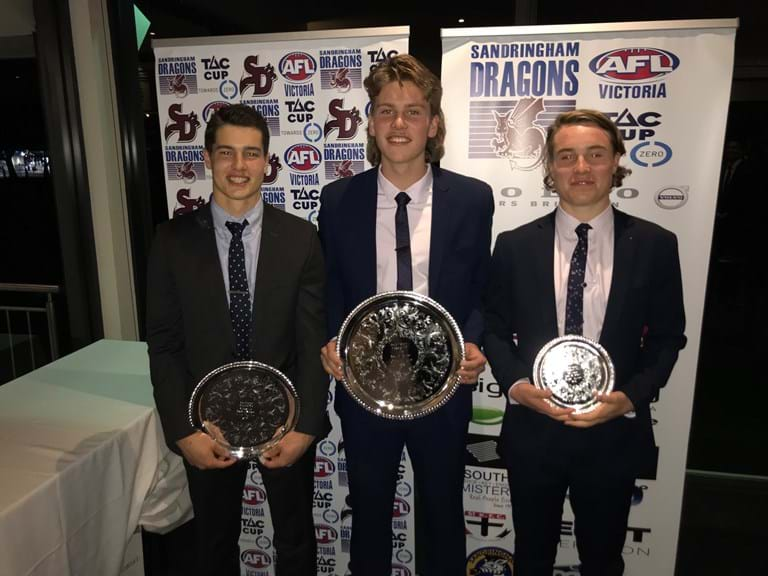 Corey Watts has taken out the Sandringham Dragons 2018 Best and Fairest award after a fantastic TAC Cup season playing on some of the best young forwards in the country.
The bottom-age key-defender received the award at the Dragons' Best and Fairest count at Sandy by the Bay and said it was an honour to receive such an accolade amongst a highly-talented group of players.
Watts, who also won the Best First Year Player, rushed out to a strong lead early in the count before holding on late ahead of a pack of Dragons who also enjoyed stellar TAC Cup seasons.
Liam Stocker capped off his breakout year with the Runner-Up Best and Fairest & Most Improved awards adding to his list of 2018 accolades that already includes a Morrish Medal.
Fellow midfielder Ryan Byrnes' consistent ball-winning season - including a 39-possession game against the Ranges - was recognised with the 3rd place Best and Fairest award to round out an impressive top three.
A significant aspect of the evening was also dedicated to departing coach Jeremy Barnard, after two seasons as an assistant and four years as head coach of the Dragons.
Talent Manager Ryan O'Connor and assistant coach Mick Lovejoy paid tribute and showed appreciation to Jeremy and his family for their time at the club, which included the 2016 TAC Cup premiership in an era yielding many talented young footballers.
Bullocking ruck/forward James Rendell took out the Player of the Finals following two influential games in the ruck & also the Coaches Award after displaying the 'Dragons footy' expected by the coaching staff throughout 2018 on and off the field.
Nick Stamatis was named 2018's Fiercest Dragon for his efforts throughout the year on gameday and at the training track, whilst versatile backman Josh Worrell received the Honest Efforts award as the player who polled the most one-percenters and team acts.
Sandringham's best clubman went to trainer Lynda Britten for her tireless, selfless and dedicated work for the club.
Former Dragon and current Collingwood player Nathan Murphy joined MC Leigh Montagna in farewelling our top-age players and wishing them all the best in their future football journeys, whether it be AFL, VFL or local football.
Sam Bunn