Dragons breathe fire early in win over Lions
Sam Bunn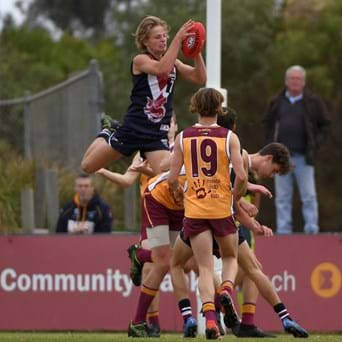 A completely dominant first half set up the Sandringham Dragons' fourth win in five attempts in the NAB League Boys season, running out 97-point winners over the Brisbane Lions Academy at Wilson Storage Trevor Barker Beach Oval.
A clinical 13-goal-to-one opening half put the result beyond doubt at the main break and sewed up the Dragons' top spot on the ladder.
The ball movement and inside-work from the home side was nothing short of superb for majority of the contest, allowing key-forwards Kyle Yorke and Jack Bell (two goals apiece) to display their marking abilities and punish the Lions on the scoreboard.
Midfielder Jackson Voss provided the most memorable highlight of the contest, taking a spectacular hanger in the goalsquare over multiple Brisbane defenders and slotting home a goal – almost giving assistant coach Jackson Kornberg a heart-attack in the box.
A total of 13 Dragons' goalkickers illustrated their unselfish approach, with Blake O'Leary (three goals), Andrew Courtney (two) and Angus Hanrahan (two) joining Yorke and Bell as multiple goalscorers.
Head Coach Josh Bourke said the team's response was "terrific" following their loss to Sydney in round four.
"Two weeks ago (against Sydney) we were really challenged physically about how we went about it where we were bullied a little bit around the footy and around the ground, so it was great how we responded today," Bourke said.
"I hope the lesson the boys walk away with is not so much our heroics or anything like that but just effort; effort to pressure and wear sides down, effort to harass, effort to tackle. As a coaching group we're excited that some guys got their opportunity today and really made a statement of where they're at for the year and really set up their season."
Bourke said there was still plenty of opportunities to grow as a team, noting the dip in concentration in the final quarter which allowed Brisbane to control the game late will be an area of focus.
"We want to keep getting better, we drifted off mentally late in the game and stopped being organised and ruthless in the way we were setting up to own the ground so our challenge is to get better in those moments," he said.
Jack Bell was named best afield in the win. Jackson Voss, Harry Loughnan, Ryan Byrnes, Louis Butler and Riley Bowman also received praise from the coaches.
Sandringham have a bye before facing the Eastern Ranges in Moorabbin on Sunday May 12.
Sandringham Dragons 8.3-51 13.9-87 17.13-115 19.18-132
Brisbane Lions Academy 0.1-1 1.1-7 3.3-21 5.5-35
Goal Kickers: B. O''Leary 3, J. Bell 2, K. Yorke 2, A. Courtney 2, A. Hanrahan 2, R. Byrnes, T. Murray, J. Voss, J. Le Grice , T. Deane-Johns, G. Grey, D. Hipwell, A. Perkins
Best Players: J. Bell, J. Voss, H. Loughnan, R. Byrnes, L. Butler, R. Bowman