Dragons cap off preseason at Victoria Park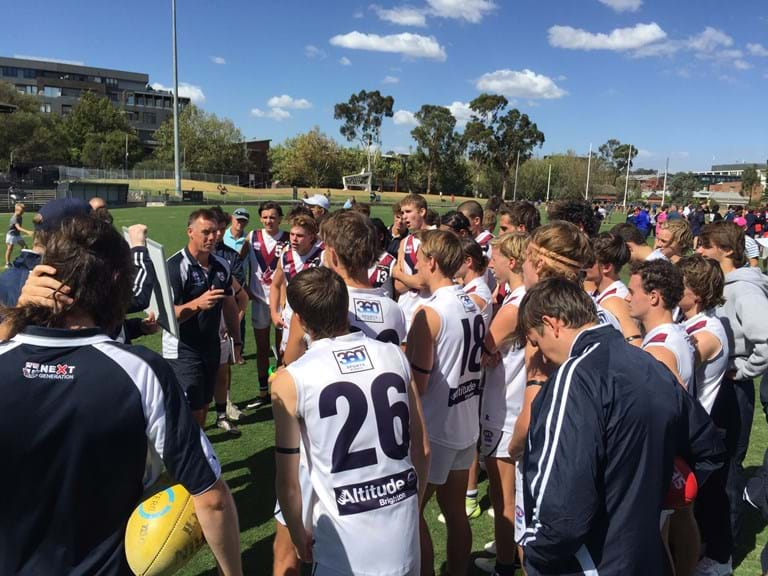 The Sandringham Dragons had their final preparations for the 2018 TAC Cup season with a pre-season match against the Oakleigh Chargers on Sunday.
In blustery yet sunny conditions at the iconic Victoria Park, both sides fielded close to full strength teams in a competitive hit-out a week out from round one.
The first half belonged to the Chargers, who used the ball cleaner and adapted to the conditions quicker, before the Dragons looked the better side in the second half with slicker ball movement and a greater ability to lock the ball in their forward half.
The leaders stood up for Sandringham when called upon, with vice-captain James Rendell kicking two goals and captain Bailey Smith capping off a fine third term with a classy snap from the pocket.
Against a strong Oakleigh side and amidst challenging conditions in defence, the backline stood up well across the contest, rebounding the ball and limiting scoring opportunities.
Forward-line coach Brad Berry spoke after the game, noting the stark improvement between the first and second halves of the match.
"Main positives were the second half with the ability to get the ball inside 50 and outnumber at contests and take care of their players behind the footy," Berry said.
"The players ability to perform what they were coached in the second half (made the difference)."
Berry was pleased with the forward line's efforts on the day, particularly the encouraging performance from tall-forward Jack Bell and the poise of Will Kennedy, who Berry says has had an 'outstanding' pre-season.
"In my line our tall bottom-ager Jack Bell certainly shows a lot of positive attributes, he's very compliant, very coachable," Berry said.
"Will Kennedy and James Rendell had a hard day at the office but didn't sway from what they were instructed to do."
The main focus of the team heading into their round one fixture against the Northern Knights will be their transition from offence to defence according to Berry, limiting the ability of their opposition to hurt them on turnovers.
The Dragons face the Northern Knights in round 1 on Saturday at 1:00 at Skybus Stadium, Frankston.
Sam Bunn