Dragons open NAB League era with dominant display
Owen Leonard
​​​​​​​​​​​​​​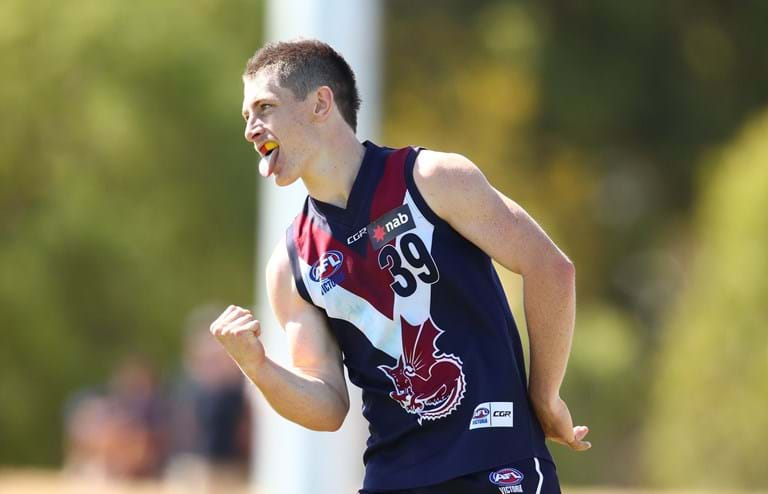 The Sandringham Dragons have commenced their 2019 campaign in style with a dominant display, defeating the Calder Cannons 19.13 (127) to 1.12 (18) in round one of the newly named NAB League Boys competition.
With conditions warm and dry at the newly redeveloped RSEA Park, the Dragons breathed fire early with a five-goal-to-none opening term and kept the foot firmly placed on the accelerator, eventually recording a 109-point triumph in front of a bumper home crowd.
Fittingly, it was former Stingray Riley Bowman who booted the first major of the match in his Dragons debut, as fellow 19-year-old Angus Hanrahan and skipper Ryan Byrnes proceeded to cause the Cannons a significant first-quarter headache.
Calder's competitiveness lifted in the second term with an improved defensive showing as they restricted the Dragons to just three goals for the quarter, though failed to work their way back into the game on the scoreboard, managing just four behinds to half-time.
The third quarter confirmed the Dragons had no plans of slowing down, extending their 51-point half-time lead with another five-goal quarter, as Bowman and fellow tall forward Charlie Dean started to form a deadly combination, well-complemented by the ever-dangerous Jack Mahony and Jacquin Mifsud, who combined for three goals in the term.
With a three-figure margin in sight, the final quarter saw the Dragons flex their muscles booting 6.3 to Calder's four behinds, with Dean (five goals for the match) and Bowman (three) sending out a warning to the rest of the competition, as midfielder Byrnes set the tone in his first match as captain with a best-on-ground performance.
Debutant coach Josh Bourke was pleased with the win post-match but maintains there is still plenty of work to be done for the Dragons.
"It's a nice little reward for effort that's been put in for a long time now, but as we spoke about out there [on the ground], we've got things we've still got to get a lot better at," Bourke said.
Assistant coach Jackson Kornberg was full of praise for the Dragons backline after conceding just one goal for the match.
"I thought our backs were terrific," he said.
"Particularly in the last half, the defenders were under siege. The ball was coming in with a lot of heat and they were able to rebound pretty quickly. Whilst there's a lot to improve on from a ball movement point of view, I thought it was a pretty strong start."
Kornberg was also impressed with the running ability of Oscar Lewis, as well as the quality of vice-captain Finn Maginness through midfield.
The Dragons next assignment comes on Sunday morning when they host the Northern Knights at Trevor Barker Oval in another 10am clash.
SANDRINGHAM DRAGONS 5.4 8.7 13.10 19.13 (127)
CALDER CANNONS 0.1 0.4 1.8 1.12 (18)
GOALS: Dean 5, Bowman 3, Mifsud 3, Bell 2, O'Leary, Hanrahan, Mahony, Courtney, Maginness, Burke.
BEST: Byrnes, Bowman, Dean, Lewis, Maginness, Watts