Dragons top chargers in top-of-the-table clash
Sam Bunn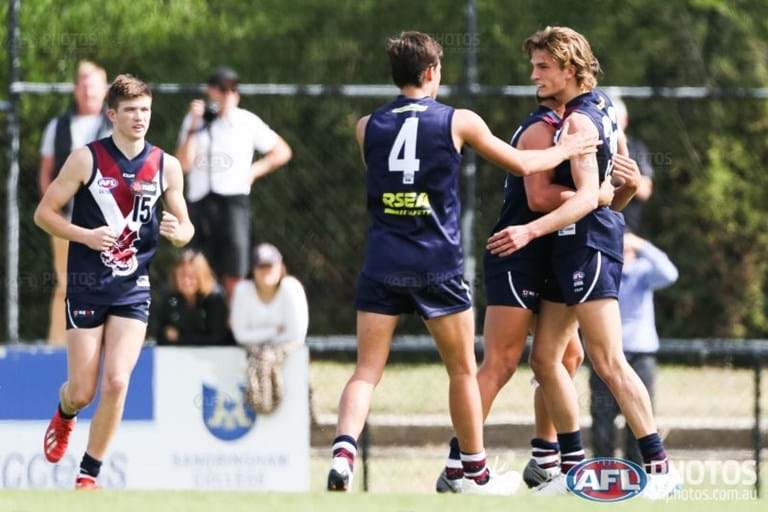 The Sandringham Dragons prevailed in a tense top-of-the-table clash with Oakleigh in round three of the NAB League Boys to improve their record to 3-0 on the year, grinding out a 9.11 (65) to 8.7 (55) victory at Wilson Storage Trevor Barker Beach Oval.
A tight opening term saw both sides trade punches as the likes of Matt Rowell and Noah Anderson willed the Chargers back into the game after Sandringham blitzed the first 10 minutes of the contest.
The second and third quarters were a different tale altogether, as the Dragons midfield trio of Finn Maginness, Jack Mahony and Ryan Byrnes were able to quell the influence of the star-studded Oakleigh lineup and swing the momentum back into the home side's favour.
A 33-minute patch through the middle of the game saw Sandringham pile on five goals to one and take what ultimately became a match-winning lead into the final break.
Oakleigh didn't have any plans to roll over however as they roared back into the game with three quick fourth-quarter goals to cut the margin to 11-points before a clever knock-on and finish in the goalsquare from livewire Dragon Jake Bowey snuffed out any chance of what would've been a remarkable comeback.
Bowey's clutch effort highlighted a day Sandringham coach Josh Bourke relayed the importance of winning those critical contests in the "big moments".
"Our effort all day to win those 50-50 ground balls that we talked about (pre-game) was really, really positive…it was full of positive individual efforts," Bourke said.
"Our coaches during the second and third quarter sat there saying 'that's us' – ownership of the outside and ability to make the ground big and stretch them.
"It was full of big moments; Josh Worrell going back with the flight a few times, Hugo (Ralphsmith) sitting under high balls, Finn's (Maginness) work inside, Mahon's (Jack Mahony) work inside…there was big moments for lots of individuals, I'm really pleased how we stood up against some really good players."
Vice-captain Finn Maginness was named best-on-ground for Sandringham after gathering 24 disposals (17 contested), four clearances and kicking a goal against one of the strongest midfields in the competition.
"I thought this was one of Finn's most complete games, he really showed his inside work around stoppage – he had 17 contested possessions from his 24 disposals which proves he is an inside-mid this year," assistant coach Jackson Kornberg said.
"He generally used the ball pretty well and showed he can get on the outside too, he had tremendous front-half impact with six inside-50's which is pretty big."
Fellow midfielder Jack Mahony also received praise from the coaching staff for his 25 disposal, five tackle effort. Mahony won the ball on the inside and outside, setting up multiple Dragons' scores.
"This was his (Mahony's) best game for the year, he was a real dual-threat around stoppage and showed his workrate to get to as many contests as possible, his hands in tight and work inside the contest was the best he's shown to date," Kornberg said.
Charlie Dean, Josh Worrell, Hugo Ralphsmith and Josh Le Grice were also named in the best.
A 3-0 start to the season has the Dragons well-placed after three rounds of the NAB League Boys season, but with APS football recommencing in the coming weeks the club's depth will be tested.
Coach Josh Bourke emphasised post-game how crucial the synergy within the playing group will be as a high number of changes are set to occur from week to week.
"Over the next few weeks with different things coming up our capacity to stay connected as a group is really important, I expect the leaders to take some control of holding the group together even though we'll change a bit with who is playing…it's really important we build on what we started in the first three rounds," Bourke said.
"We've shown when we play our best footy we're really, really hard to beat, but we've also shown when we compromise on our way opposition sides are going to be good enough to take things away from us."
There was more good news for Sandringham in the rooms post-game as it was announced Oscar Lewis, Finn Maginness, Ryan Byrnes, Corey Watts and Louis Butler were added to the preliminary Vic Metro squad.
The Dragons will look to go 4-0 in round four as they face the Sydney Swans Academy in Sandringham.
Goal Kickers: H. Ralphsmith 2, C. Dean 2, A. Hanrahan 2, O. Lewis, F. Maginness, J. Bowey
Best Players: F. Maginness, J. Mahony, C. Dean, J. Worrell, H. Ralphsmith, J. Le Grice