Gallant Dragons eliminated by Dandenong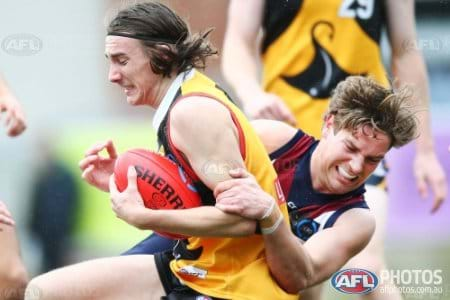 The Sandringham Dragons' 2018 TAC Cup season has come to a brave ending, going down to a powerful Dandenong Stingrays outfit in the preliminary final, losing 14.11 (95) to 8.5 (53).
Both sides came into the high-stakes final filled with confidence after dominant performances in their respective elimination finals the previous week.
Windy conditions at Ikon Park favoured the Stingrays in the opening term but saw them unable to capitalise on the advantage as Sandringham held firm to be within six points at quarter time.
Early goals in the second quarter with conditions supporting them saw the Dragons take what looked like a promising lead midway through the term before Dandenong hit back to regain their six-point advantage heading into half-time in what was ultimately the deciding phase of the contest.
Despite forwards Darcy Chirgwin, Ben King and Jack Mahony all looking dangerous in different periods of the game it was the Stingrays who ultimately had too much firepower and ran away with the result after half-time.
A five-goal margin at the final break didn't seem insurmountable given the aiding breeze for Sandringham, but all hope was snuffed when Dandenong key-forward Bailey Williams slotted two fourth-quarter goals to send his Stingrays to the TAC Cup decider and end the Dragons' gallant efforts.
"We've managed to ring every last ounce of out you to get to this position and it's really pleasing as a coach, I couldn't be prouder," Dragons coach Jeremy Barnard said.
"We've never played so many 17-year-olds for so long in so many key spots - it's fantastic for the program that we're able to expose so many young players into the TAC Cup and they'll be better for it next year.
"It's (the year) been successful on so many fronts…we're disappointed today but it's about what we do after this."
Ruckman/key-forward James Rendell was named best-on-ground for Sandringham after clunking multiple contested grabs and competing strongly in ruck duels and at ground level to provide an influential physical presence across the ground.
Rendell's performance capped off a great month of football for the vice-captain, whose leadership has been evident since losing senior teammates to injury.
"James (Rendell) and Ben (King) really stepped up to the mark when Bailey (Smith) couldn't continue for the rest of the year," Barnard said.
"When we have James in our team it makes us a better side - he competes, works really hard, lives the Dragons values and he's got a big future ahead of him."
Defender Josh Worrell was given the coaches award for a standout effort under immense Stingrays pressure, intercepting many attacking forays and rebounding the ball out of the back half.
"Josh came in unheralded to the program and we weren't sure if he was a forward or a back…he's got some great qualities that'll come to the fore next year, he battled really hard today," Barnard said.
Charlie Dean, Liam Stocker, Darcy Chirgwin and Ryan Byrnes were also named in the best.
Unfortunately for the Dragons they'll have to wait until 2019 to get back on the winner's list as Dandenong and Oakleigh battle it out in the TAC Cup Grand Final on Saturday at Ikon Park.
Goal Kickers: D. Chirgwin 2, B. King 2, J. Mahony 2, F. Maginness, G. Grey
Best Players: J. Rendell, J. Worrell, C. Dean, L. Stocker, D. Chirgwin, R. Byrnes
Sam Bunn