better late than never - reynolds return makes football dreams a potential reality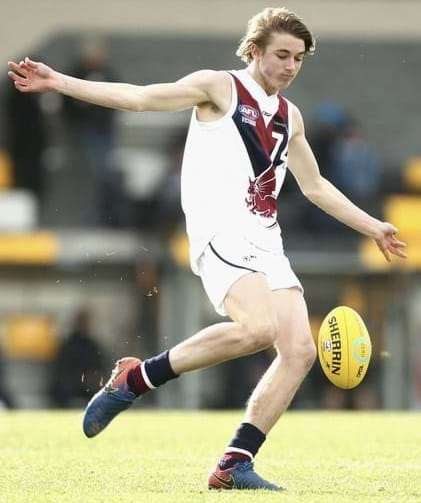 Versatile swingman Harry Reynolds made a very late start to his TAC Cup season, but it was well worth the wait.
Reynolds spent his Under 15 and 16 seasons at the Dragons, but having struggled with an array of injuries – including breaking both wrists, a thumb and collarbone – Reynolds gave football away following his Under 16 year.
After admitting there was a stage where he thought 'this isn't the game for me', Reynolds rediscovered his love for football at Brighton Grammar in the APS competition.
A dominant 2018 campaign as captain of Brighton Grammar propelled the talented youngster back into the forefront of recruiters' agendas despite having no intentions of getting looked at by AFL clubs at the start of the year.
Then a call from the Dragons came.
"I started to play some good football so they rang up Dad and said they'd like me to come down to training and see how I go," Reynolds said.
"I went down one Wednesday and loved it, so I kept going and managed to get a game a few weeks later."
Reynolds made his TAC Cup debut in round 15 against Oakleigh and was named in the best after collecting 20 disposals, following it up against Dandenong with another impressive outing and another recognition in the best players.
Playing in a range of positions at Brighton – including midfield, wing, half-back and full-forward – Reynolds continued to highlight his flexibility at the Dragons, with his ability to perform strongly in a number of key roles evident in his four TAC Cup games.
"It was a big step up from Brighton Grammar footy, you have a bit more time and I was getting a lot more of the ball at Brighton – it was good to play with some really high-quality footballers," Reynolds said.
The exciting prospect's junior career is fascinatingly similar to that of Collingwood's Nathan Murphy, being a tall utility who impressed at Brighton Grammar before joining the Dragons late in the year.
Reynolds said Murphy's journey gave him a "real insight to it all and made me think maybe I could do that as well" after Murphy's name was called out by the Magpies at last year's National Draft.
Sandringham Dragons Talent Manager Ryan O'Connor was delighted with Reynolds' performances in the final month of the TAC Cup and said he'd been on the club's radar for years.
"He got invited to preseason and wasn't quite sure whether he wanted to do it at that stage," O'Connor said.
"It was only after he developed a good head of steam at APS football and started getting enquiries from AFL clubs that another follow-up from us and a few chats with him and his Dad made him think he could give this a go.
"To his credit from the moment he said 'I'm in' and wanted to have a red-hot crack at it he did everything he said he was going to do and more, I think it's a credit to him."
O'Connor identifies Reynolds as a natural half-back with great defensive tendencies but also believes he has the capacity to transition into an inside/outside midfielder with his clean hands and ability to win the ball both superb.
"He's got a lot of high-end attributes, I think once he got the confidence in himself to really have a go at it he's really been able to play some good football," O'Connor said.
"He was able to find his way into our midfield and improve in each game he played, I thought it was really exciting."
Adding: "His performance has given every indication that with more training and a full-time program he could have a red-hot shot at transitioning to AFL level."
The 189cm prospect all but conceded his childhood dream of playing AFL football wouldn't pan out following his cruel series of setbacks.
After averaging 17.5 touches and over three clearances per game in his short stint at the Dragons the possibility of his name being called out in the upcoming AFL Draft has suddenly become a real possibility.
"After all those injuries I thought this probably isn't the game for me, so I kind of accepted the fact that it wasn't going to happen," Reynolds said.
"To get back to playing some good football, start getting noticed and having some meetings with clubs has been awesome, it brought back into the equation that maybe it could happen."
Reynolds' story is one of persistence, ability and still has many chapters to write.
"I'm just very hopeful (of getting drafted), you never know what's going to happen until your name gets called out or not," Reynolds said.
"I'll be hoping for the best."
Sam Bunn