Player Focus: Laura Amelung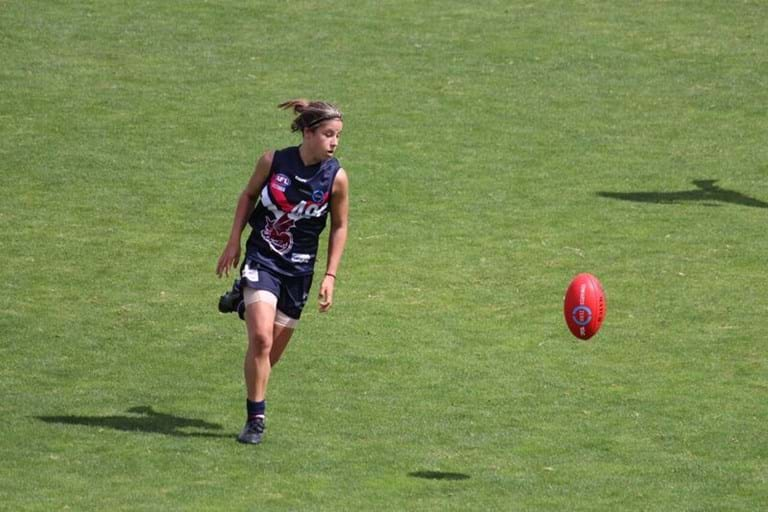 Laura Amelung's passion for football sparked at the age of 10 when she found herself mesmerised by the junior football being played across from her tennis club.
Years of individual and team success later, Laura found herself as a vital cog in a strong 2018 Dragons side through her selfless team-first attitude.
"I was 10 years old and playing tennis at the time right next to Beaumaris footy oval," Amelung said.
"I was watching the U15 or U16 boys play with my dad and said it looked amazing and I really wanted to play so I joined the Sandringham Zebras who pretty much became my second family.
"After winning a best and fairest I wanted to continue and joined St. Bede's/Mentone Tigers and that's where I met some of my best friends."
Amelung enjoyed a stellar 2018 season for Sandringham, polling strongly in the Best & Fairest count through her pace and skill across half-forward.
Her efforts have earned Amelung a spot on the St. Kilda Sharks list, an achievement she largely credits to her development at the Dragons.
"Considering it was my first year for the Dragons I thought I did alright as it's a huge step up from club level," Amelung said.
"It was great because I learnt so much from the coaches and players and it's helped me to get a spot at the St. Kilda Sharks."
Sandringham surprised the competition in 2018 with their rapid rise up the TAC Cup Girls ladder, much to the pleasure of Amelung.
"Everyone (outside the club) said that we weren't going to do well this year but our team gelled from the beginning and everyone brought effort," Amelung said.
"From where we were at the start of the season to where we are at the end is a phenomenal effort and despite what everyone thought we definitely prevailed in the end."
As a small-forward Amelung prides herself on crumbing packs and assisting her teammates in front of goal, keeping opposition defenders on their toes across all four quarters.
Ensuring her fleet of foot remains elite is important in Amelung's position, as she admits her height was a challenge in adapting to the game.
"I have to make sure I'm playing well with speed, agility and stamina," Amelung said.
"I have to ensure I'm super fit and playing really well as a small."
Amelung says her father has clearly been the biggest influence on her football career and a major reason for her achievements throughout her playing years.
"My dad by far (has been the biggest influence) as he pushes me to be my best every single day," Amelung said.
"He always gives me advice and drives me to every game even if it's two hours away."
In regards to her goals on and off the football field, the speedy forward aspires to become a Police Officer once she turns 21 whilst also continuing her rise up the footy ranks to eventually playing in the VFLW or even AFLW.
The game of football makes Amelung "super, super happy" and is sure to be a core part of her life for years to come.
Sam Bunn