Player Focus: Meg Cairns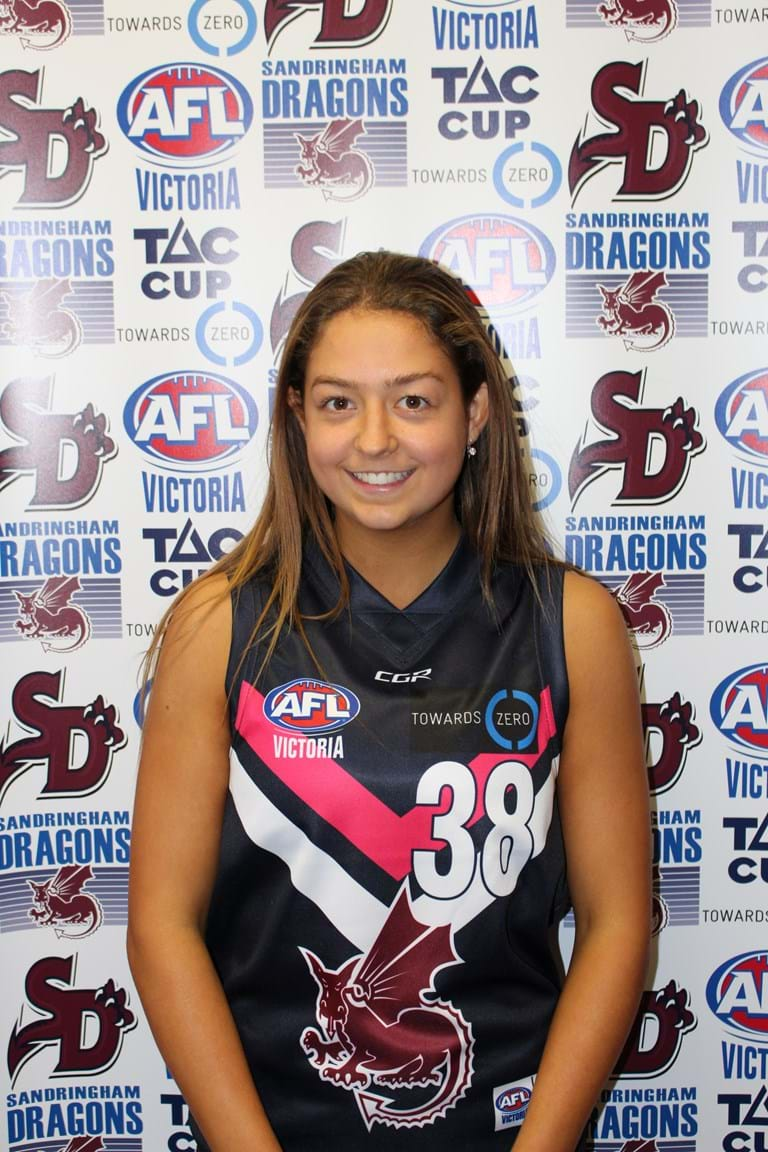 Meg Cairns' preparation for the 2018 TAC Cup Girls season took a heartbreaking blow in November last year when she suffered a fractured foot during pre-season.
But even the navicular bone, a notoriously tricky area to recover, couldn't stop the Dragon from having a profound impact on her team's stunning season.
Through hard work and sheer determination Cairns remarkably returned to full fitness in time for the final two rounds of the season for Sandringham, which saw her sing the song with her teammates on both occasions.
"It was very difficult because it was just such a slow process," Cairns said.
"I was in crutches for a few weeks, a moonboot for a few months, so that was challenging to stay vibrant watching everyone else doing what I love and not being able to join in.
"But I still rocked up to every training session so that helped me keep positive."
Cairns said that she "learnt a lot" about herself during the rehab process and gained plenty of confidence from playing at TAC Cup level over the final fortnight of the season.
The elite runner credits the Dragon's staff for inspiring her throughout the arduous recovery process, allowing her to return to the field and do what she loves.
"The support there was amazing, the rehab team got me doing heaps of thing to keep me occupied and maintain my strength so that helped me get through it," Cairns said.
"I was just so determined to get back out there that I took my physio and sport doctor's advice really seriously and focused on doing all my rehab exercises."
Cairns is still relatively fresh to the football scene having spent close to a decade dedicating herself to athletics, however has benefited from her experiences as a result of her pace and ability to cover the ground.
"I only started playing footy two seasons ago but I would just play games as I was training for athletics during the week, so I never really had a proper training schedule for footy," Cairns said.
"That's why I was really grateful for the experience at the Dragons to actually give it a crack.
"I'd always grown up with my brother playing footy and loved the idea of it but it wasn't really until the recent growth of AFLW that I thought I'd give it a go."
Football's team-first orientation is an aspect of the sport Cairns loves after coming across from an individual sport in athletics, noting the energy she gains from her teammates "makes training fun and helps you stay motivated".
Her brother has also had a significant influence on the speedster's newfound love for the game and has assisted her development throughout her career.
"My brother's been a massive influence, we're super competitive but he's always really encouraging and keen for a kick of the footy - my success is his success," Cairns said.
AFLW & WNBL dual-athlete Monique Conti is another inspiration for Cairns, having attended the same high-school and sharing the capacity to outrun opponents on the football field.
Cairns aspires to study physiotherapy or science/commerce at an interstate university, whilst also working towards her dream goal of playing AFLW.
"Obviously the ultimate dream would be to play AFLW, I would love to be a role model for young girls - someone they can look up to who's a good balance between professional sport whilst also maintaining their academic goals, that's really important to me," Cairns said.
In regards to her time at the Dragons, Cairns can't speak highly enough of everyone involved at the club that assisted her development as a footballer and a person.
"It was awesome, a great bunch of girls, the coaches are so much fun and so motivating," Cairns said.
"I'm so happy for the experience, I definitely learnt a lot from everyone – they help you in different ways not just on the field."
Sam Bunn