Dragons hold on in pulsating final quarter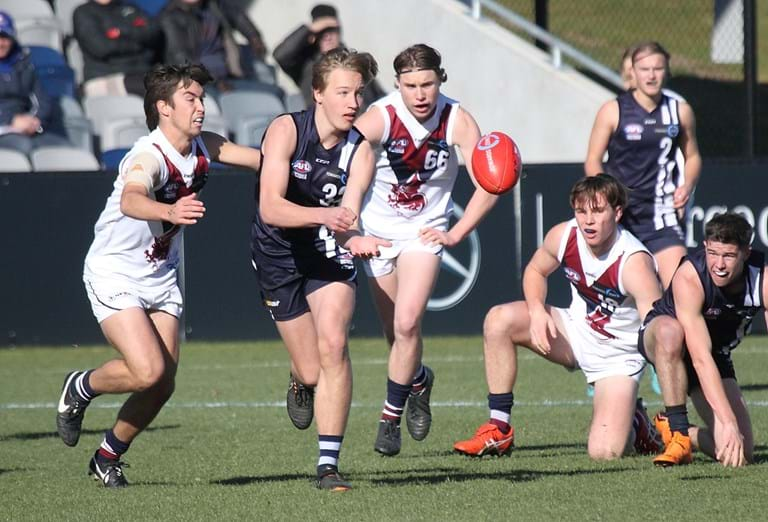 The Sandringham Dragons have overcome Geelong Falcons in a nail-biting round 12 TAC Cup match at Mars Stadium, Ballarat, winning 11.5 (71) to 9.15 (69).
Heading into the final term with a two-goal buffer, Sandringham held off a fast-finishing Falcons side in a pulsating conclusion to what was an end-to-end game between two quality sides.
A cool finish from midfielder Liam Stocker bursting out of a stoppage followed by a clutch goal from Angus Hanrahan after dancing around multiple Falcons defenders were enough to secure the Dragons' fourth-straight victory.
Neither side were able to make the most of their periods of dominance with the game being within a couple of goals from start to finish, as Geelong looked like stealing it midway through the last before Sandringham settled.
Alastair Richards was influential in the first half with his blistering pace keeping his team in the contest early, as were the efforts of key-forwards Jack Bell and James Rendell throughout.
Sandringham lost key duo Harry Houlahan and Jack Mahony to injury during the match, a challenge their teammates were strong enough to overcome and net the four points.
"It wasn't our best game, no doubt about it, they significantly challenged us…however we were able to adjust our game plan at three-quarter time and lower our eyes, use the ball better and change angles and therefore we got the result we were after," Dragons coach Jeremy Barnard said.
"It's really pleasing as a coach that when a team is challenged and there could be excuses that our team at the Dragons don't give up.
"We say to our players 'you're the next man up and you have to perform like a Dragon', we're really proud of the way they played."
Facing a star-studded Falcons midfield-unit the Dragons worked hard through the guts to deliver their forwards ample opportunity in front of goal, a feat the coaching staff were proud of.
"We put significant pressure on the boys, especially the midfield, I thought they came through in spades," Barnard said.
"The good thing is when we get situations like this is it perhaps gives opportunities to players that we mightn't have if we were full strength.
"It gives us really good exposure for later in the year with a bit of depth through the midfield."
Small-forward Angus Hanrahan returned from Vic Metro duties and starred in the win, his creativity and skill earning best-on-ground honours, collecting 14 disposals, four tackles and kicking two vital goals.
"As a dangerous small-forward he's really created a strong energy, at times he had to pinch hit through the midfield and he got on the end of a couple of neat goals that changed the tone of the game," Dragons assistant coach Jackson Kornberg said.
Sandringham's coaching staff gave the coaches award to Anthony Seaton, who despite being hit with an injury in the second quarter returned to the game and impacted the contest when the team needed him most in a "real Dragons footy performance".
"He hurt himself in the second quarter but in true Dragons grit fashion he handled that and you wouldn't be able to tell he's injured all game," Kornberg said.
Sunday's victory improves the Dragons' record to 8-4 on the season, sitting third on the TAC Cup ladder.
| | | | | |
| --- | --- | --- | --- | --- |
| | GF 2.4-16 | 4.9-33 | 5.11-41 | 9.15-69 |
| | SD 2.3-15 | 5.4-34 | 8.5-53 | 11.5-71 |
Goal Kickers: J. Rendell 2, A. Hanrahan 2, J. Bell 2, C. Dean 2, H. Ralphsmith, T. Brimble, L. Stocker
Best Players: A. Hanrahan, L. Stocker, A. Richards, J. Rendell, A. Seaton, J. Bell
Sam Bunn