Chargers snap dragons' six-game winning streak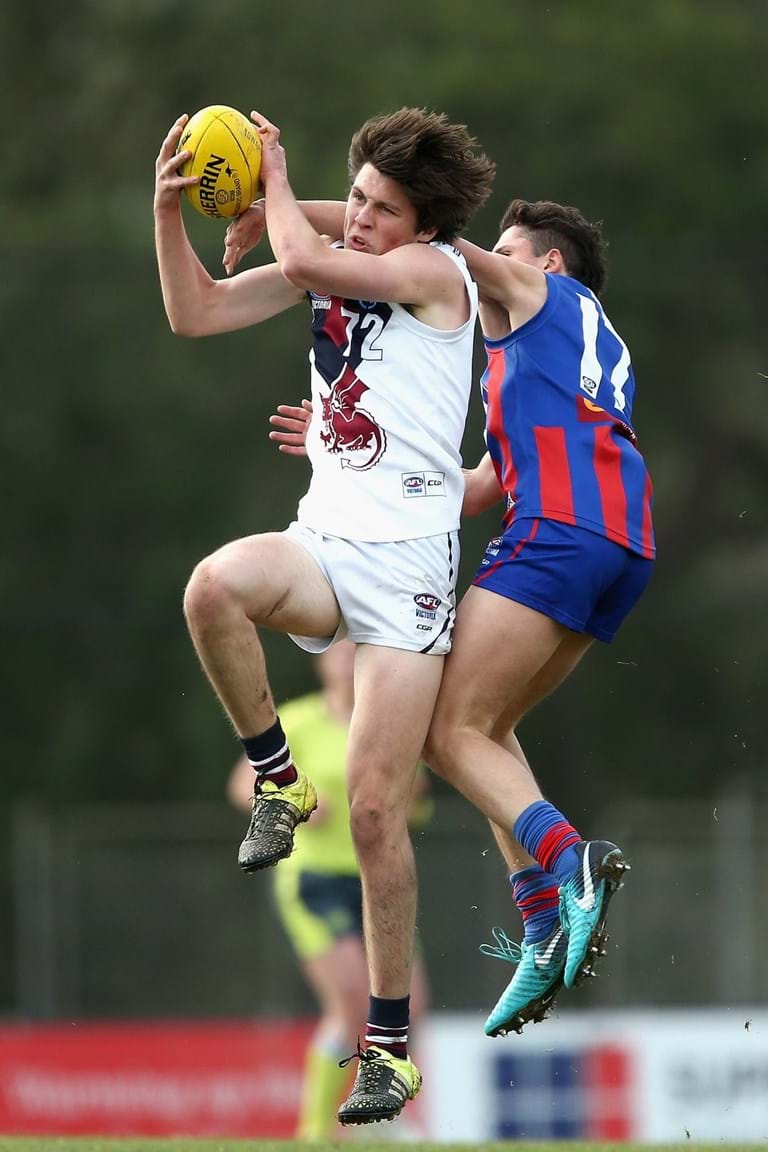 The Sandringham Dragons have been dealt a heavy loss to the Oakleigh Chargers in round 15 of the TAC Cup, going down 4.8 (32) to 13.10 (88) in Werribee.
After Ben King kicked the opening goal of the game in his Dragons return Oakleigh piled on the next seven goals to blow the game apart and snap Sandringham's six-game winning streak.
Nick Stamatis' goal in the dying moments of the first half gave Sandringham hope heading into the main break before the Chargers snuffed out any chance of a revival with another impressive patch.
Wet conditions made it difficult to move the ball efficiently but Oakleigh still found a way to flick the ball around with ease and hold the ball in their forward half, severely limiting the Dragons' ability to give their forwards ample opportunities.
A rare Sandringham highlight on the day came from small-forward George Grey who crumbed a pack with one clean take and snapped truly in traffic against the flow of play in the third term.
"We really broke down between the arcs - Oakleigh's pressure was terrific, on offence they were able to move the ball fluently," assistant coach Jackson Kornberg said.
"Oakleigh's pressure forced us to kick to contests and they won the lion share of one-on-ones and slingshotted the ball back.
"We only had 23 inside-50s and they had 58, you can't be in a game when you have 23 inside-50s so that's something we'll be working on this week."
An under-siege Dragons' defence battled stoically all afternoon but simply couldn't overcome the sheer weight of supply Oakleigh were able to deliver their forwards throughout the contest.
Key-defender Corey Watts was named best afield for another impressive game assigned to some of the best forwards in the state, his intercept marking standing out in an otherwise dour affair.
"Corey was really strong for us, he started on a big key-forward down there and then when Dylan Williams started to get a handle on the game we flicked Corey onto him and he did a reasonable job…Corey was really good on him," Kornberg said.
"He also provided a real spark for us on offence when he won the footy with his contested marking, he continued his strong vein of form."
Nick Stamatis, Alastair Richards, first-gamer Harry Reynolds, Jack Bell and Ryan Byrnes were also named in the best.
Sandringham now sit third on the TAC Cup ladder with a 10-5 record ahead of a big game with Dandenong next Saturday.
| | Q1 | Q2 | Q3 | Q4 |
| --- | --- | --- | --- | --- |
| | OC 2.1-13 | 7.5-47 | 9.7-61 | 13.10-88 |
| | SD 1.1-7 | 2.2-14 | 3.5-23 | 4.8-32 |
Goal Kickers: G. Grey, N. Stamatis, B. King, J. Bell
Best Players: C. Watts, N. Stamatis, A. Richards, H. Reynolds, J. Bell, R. Byrnes
Sam Bunn