Dragons too strong for ranges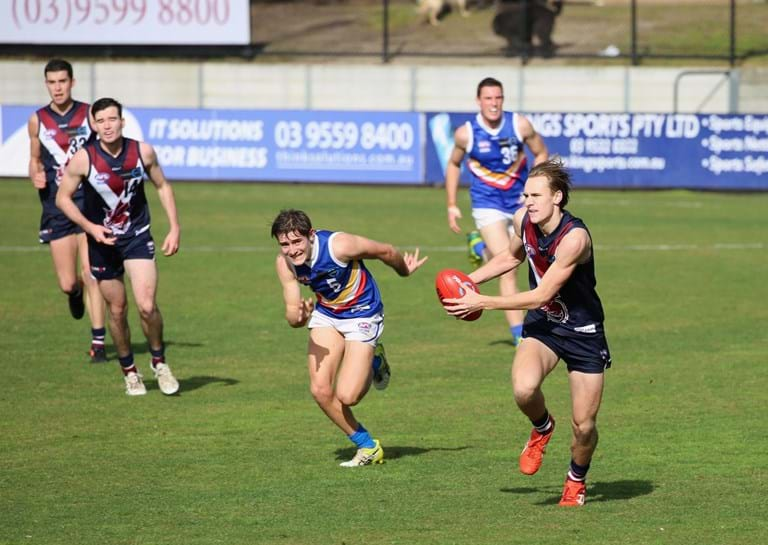 An electric third quarter has delivered the Sandringham Dragons their sixth win of the TAC Cup season, defeating the Eastern Ranges 8.6 (54) to 4.8 (32) at Trevor Barker Oval on Saturday.
After a tight first half in wet conditions, Sandringham kicked four unanswered goals in the third term to run away with the victory.
A spirited final quarter put the Ranges within touching distance of the Dragons before Dawit McNeish's clutch goal from a tight angle iced the contest.
"I thought the first and third quarters when we played our best footy it was our ability to win the ground ball and hit kicks, plus our contested marking and goalkicking," Dragons assistant coach Jackson Kornberg said.
"We executed our fundamentals really well, that's the reason we got back on top."
Small forward George Grey made his TAC Cup debut and was a real positive for Sandringham, kicking two goals and looking dangerous in the forward arc.
"When we got the ball moving forward our tall-forwards were able to get to work and our smalls got back and outnumbered at ground ball," Kornberg said.
Dragons midfielder Liam Stocker had his second consecutive best-on-ground performance, continuing his superb season with another dominant outing.
"He's a real stoppage beast, wins a lot of the ball around clearances and gets us driving forward," Kornberg said.
"His challenge the last couple of weeks has been to start developing a bit more of a complete game especially on the outside and I thought he started to get a lot more ball through his running patterns."
Alastair Richards thrived in his first game back from representing Vic Metro at the National Championships, dashing through the middle of the ground and winning plenty of the ball.
"His main attributes – his pace and ability to run and take ground – I think he really executed that today, but he also showed a side where he can win the stoppage and contested ball," Kornberg said.
Sandringham's victory takes them to fifth on the TAC Cup ladder with a 6-4 record ahead of next Saturday's clash with the Northern Knights.
Goal Kickers: C. Dean 2, G. Grey 2, F. McAsey, D. Chirgwin, J. Denborough, D. McNeish
Best Players: L. Stocker, A. Richards, H. Houlahan, A. Seaton, N. Stamatis, A. Courtney
Sam Bunn
Story originally appeared in the Bayside Leader