Ruck role sees Rendell thrive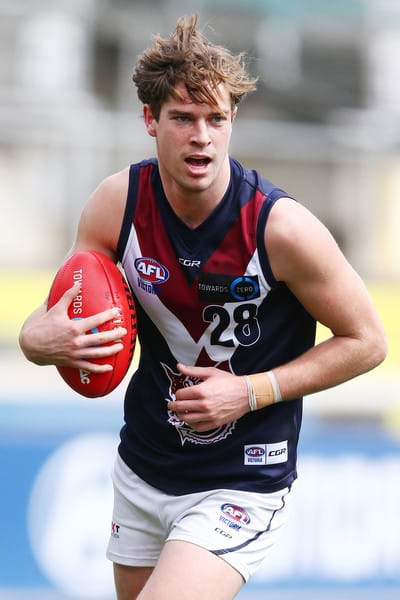 A late-season move to the ruck saw Sandringham Dragons key-position player James Rendell dominate the latter stages of the TAC Cup and firmly cement his place as one to watch over the coming years.
Having experienced injury and illness setbacks throughout his junior career the competitive beast enjoyed a breakout 2018, representing Vic Metro in the National Championships and starring in the TAC Cup finals series.
An uninterrupted run into the year built Rendell's confidence in his game – mainly as a key-forward – before assuming the mantle as the Dragons' go-to ruckman where his hunger for the contest and ability to contribute around the ground shone.
"Coming into the year I just wanted to have a really good preseason and build up a good base of fitness and take it from there," Rendell said.
"I've been pretty content with some of the performances I've had, towards the end of the year I was able to get into a good patch of form which was probably due to some of the overage ruckman exiting the program which allowed me to move in there (ruck) full-time."
At 198cm Rendell is marginally undersized in comparison to other ruckman but more than compensates for it with his attack on the ball and determination to get the best out of himself, modelling his craft on Richmond premiership star Toby Nankervis.
"I started the year as a forward going into the ruck but towards the end of the year I played more permanent ruck … I feel more comfortable as a ruckman, I enjoy being around the ball a lot more," Rendell said.
"I'm a bit undersized compared to other ruckman but I think I make up for it with my influence on the game, defensive pressure and ground level work for a big man."
Missing out on an invite to the National Draft Combine was a turning point in Rendell's season, who only worked harder following the disappointment.
A 20 disposals, 19 hitouts, six marks and one goal outing against Murray in the elimination final, followed by a 17 disposals, 23 hitouts, seven marks and five tackles performance against Dandenong in the preliminary final highlighted the remarkable improvement in his game.
"I didn't get an invite to the national combine which made me realise I wasn't where I wanted to be … I pride myself on working hard but I had to take my work ethic to another level if I wanted to achieve my goal of being drafted," Rendell said.
"I just tried to get to training as early as I could and really work hard to get the best out of myself and prepare for games as best as I could."
Rendell is the son of former Fitzroy ruckman Matt Rendell, making him eligible as a father-son prospect for Brisbane in the upcoming AFL Draft in November. The young Dragon says his dad assisted him with some ruckwork over the preseason but generally leaves him to his "own devices" regarding his football development.
Being a father-son prospect Rendell was given the opportunity to train with the Lions over the last two preseasons, an experience he got plenty out of.
"Last year I got to train with the AFL boys which was a pretty surreal experience, I got exposed to the level you have to train at and I tried to bring that intensity back to TAC Cup to hold me in good stead for my U18 year," Rendell said.
Dragons assistant coach Jackson Kornberg relayed these sentiments, saying that Rendell was able to "learn about the environment and what's required" at AFL level.
"He's come back with the knowledge of how hard an AFL club trains, the attributes of a big key-forward or ruck and how they train/what do they do and carried that into his top-age TAC Cup year," Kornberg said.
Kornberg says the Sandringham coaching staff relied on him all year to fill key gaps up forward and in the ruck and noted his rapid improvement from last year.
"He's had a tremendous year, one of our better performers over the finals series after we moved him into the ruck," Kornberg said.
"His ability to win the ball around the ground and be a competitor in the ruck has been a real asset for us this year."
Rendell was named in the leadership group at the commencement of the 2018 TAC Cup season and thrived as a leader at the Dragons throughout the season.
"Our team is a better team with James in it, he's the heart-and-soul of the team which is why we put him in the leadership group," Kornberg said.
"He's a leader where he says 'come with me and I'll show you the way' so the boys follow behind him.
"Overall he's a great character and he's very humble but when it comes to bringing a group together it's a real strong point of his."
The 18-year-old is doing everything he can to get his name called out at the AFL Draft and isn't phased about the prospect of leaving home to chase his dream.
"Obviously the goal is to get drafted, I reckon I've given it a pretty good crack this year playing TAC Cup, I'll keep training towards the combine to keep my fitness up," Rendell said.
"The prospect of moving interstate doesn't bother me at all, if I end up playing AFL football wherever it is I'm happy."
Sam Bunn