Star Dragon takes Stock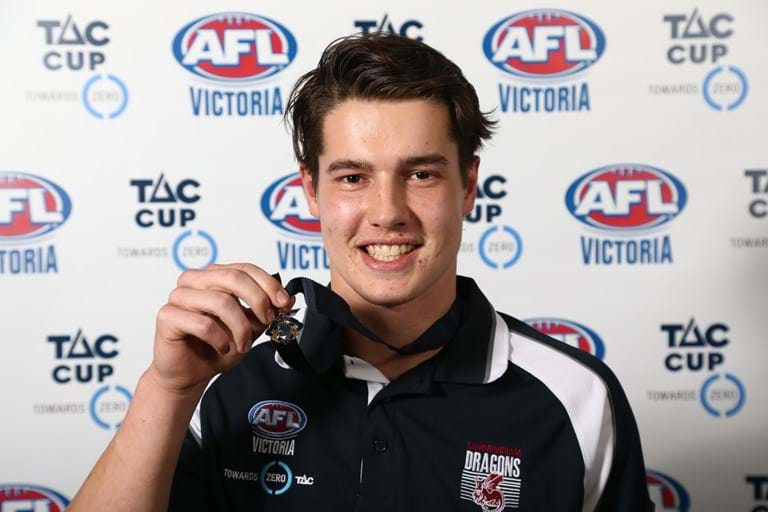 Sandringham Dragons midfielder Liam Stocker's football journey has been anything but conventional.
Stocker and his family moved back to Melbourne from Asia when he was 10. He grew up in Beijing and Hong Kong, where AFL was scarce.
A delayed start to his career hasn't quelled his ability to dominate on the field however. Stocker produced a stellar 2018 TAC Cup season to win the league's highest individual honour, the Morrish Medal.
"I moved over from Hong Kong in 2010 and started in under-11s playing Division 5 for a couple of years before moving into a team with Ben and Max King and Austin Bradtke, who's at Melbourne now, so it was pretty star-studded," he said.
"I was born in Sydney — four months later we moved to Beijing and then late 2004 we moved to Hong Kong for six years — so I didn't play much footy when I was really young."
Stocker's competitiveness and strength in the contest has propelled him to season averages of 23 disposals, five tackles and six clearances, leading the Dragons to a top-four finish.
Often playing in an inexperienced outfit, the inside-midfielder — who emulates his game on Sydney's Luke Parker — was relied on heavily to perform as a leader all season, a responsibility he thrived on.
"It's awesome, you get a bit more attention but that comes with it — in terms of leadership opportunities I think it's the best you can have because you have to go 100 per cent and be consistent all day," Stocker said.
A broken jaw suffered in Morwell six rounds into the season prevented Stocker from representing Vic Metro in the National Championships and cost him four rounds of TAC Cup, making his achievements all the more remarkable.
Stocker turned his misfortune into a motivation.
"I was a bit gutted … sometimes things don't go your way so I thought 'do what you can and control what you can control'," Stocker said.
"I just went out for Sandy with a bit of a point to prove which I've done basically all year and almost my whole junior footy career."
Sandringham Dragons talent manager Ryan O'Connor — who, Stocker credits for much of his development — has marvelled at the young gun's season.
"He's obviously had a really strong year given that he's also had a couple of setbacks, so to be able to jump back in after injury and play to the level he has, has been a real credit to him," O'Connor said.
"To come back and still be confident and attack the footy says a fair bit (about) his will power and character."
O'Connor identifies Stocker's strength and power out of stoppages and clean hands as an asset of his game but believes he has plenty of room to grow.
"He's really worked hard to fulfil his potential — he's still got a fair way to go but I think that's exciting, the upside still left in him," O'Connor said.
"I think that's what AFL clubs are looking at and going 'gee we think there's still a fair bit that we can work on here with him as much as his year's been terrific'."
The 18-year-old is "in love with footy" ahead of the AFL draft combine and draft later this year.
Stocker, who is studying science at Monash University, doesn't mind where he plays in 2019 and beyond, simply aspiring to get his name called out in November.
"Hopefully I get drafted to any club, I don't mind interstate or Victoria, I just want the opportunity to go through a couple preseasons and try set up a career in football," Stocker said.
"If it doesn't work out I know I'll be able to say I gave it my best shot."
Sam Bunn
Story originally appeared in the Bayside Leader