Swans too slick for Dragons
Owen Leonard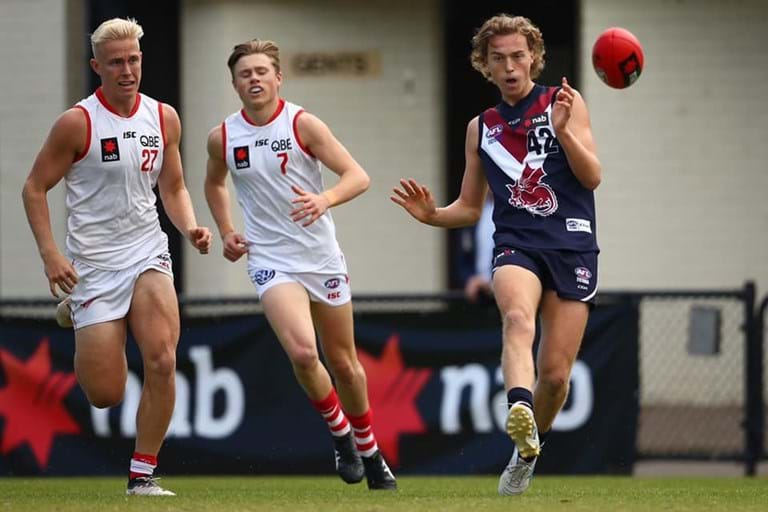 THE Sydney Swans Academy were too slick for a depleted Sandringham outfit on Saturday afternoon, with the Dragons defeated for the first time in their 2019 campaign to the tune of 22 points.
With a Vic Metro trial match forcing a range of changes to the Sandringham line-up, the squad's depth was tested in still conditions at Wilson Storage Trevor Barker Beach Oval against a well-drilled Swans side, who eventually recorded a 12.11 (83) to 16.9 (105) away-from-home victory.
The tussle was tight in the contest early, but the Swans started to capitalise on the outside, combining class with accuracy in front of goal and, following a pair of late-quarter majors, led the Dragons by 16 points at the first break.
The Swans' lead inflated early in the second term on the back of another two quick goals, with the Dragons under the pump at a 28-point deficit.
Key-forward Kyle Yorke had other ideas though, stepping up for Sandy in his first NAB League match of the season, booting two quick goals to keep the Dragons within touch - with Will Mackay, Angus Hanrahan, Josh Le Grice, Charlie Langford and Jehtt Brazionis also notable contributors in the first half.
A two-goal-to-four third term saw the Swans' lead blow out to 40 points, but Sandy refused to relent, with a couple of early final-quarter goals giving the Dragons an unlikely chance at a come-from-behind win.
While the last-term spirit of the side was high, kicking five goals to the Swans' two, the Dragons couldn't quite move within striking distance in a performance Sandringham Head Coach Josh Bourke suggested was far from a disaster, albeit maintaining Sandy would not be satisfied with its performance.
"[They] were pretty impressive and probably a bit more skilful than [what] we gave them credit for and hurt us a bit a couple of times with some good goal-kicking, so not all's lost, but even the tackle count down around 20-odd is probably not good enough," he said.
Despite a multitude of changes to the side, Bourke declared the team's chemistry was not problematic, rather pointing to the side's method as an area for improving upon.
"[It] was probably more ball use," Bourke said.
"Turnovers, probably playing a bit long and slow at times which played into their hands, so it was more method than chemistry."
The Dragons will review the game ahead of the Easter break this weekend, with the team's next assignment coming in the form of the Brisbane Lions academy on April 27.
SANDRINGHAM DRAGONS 2.3 5.5 7.9 12.11 (83)
SYDNEY SWANS ACADEMY 5.1 10.4 14.6 16.9 (105)
GOALS: Yorke 3, Hanrahan 2, Florent 2, Perkins 2, Loughnan, Garnaut, Bowman
BEST: Burke, Bowman, Le Grice, Castan, Perkins, Yorke