U16s taking Eastern challenge head on
Sam Bunn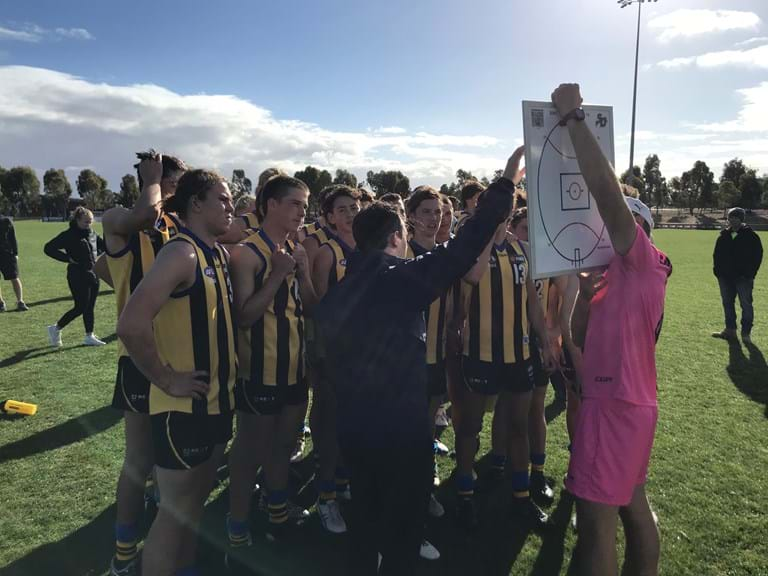 Sandringham Dragons U16 Head Coach Jackson Kornberg says he's "really excited to see what the boys can deliver" against the Eastern Ranges today following a disappointing defeat to Oakleigh last week.
Despite playing quality football at various stages in their first match of the U16 carnival, Oakleigh ran away with the game late and proved too clinical on the day.
The loss provided the team with plenty of learning curves ahead of the game with Eastern.
"The main thing to come out of it was that we're looking for a stronger effort this week, I thought Oakleigh really brought pressure around the ball and then when they won the ball they were really aggressive with how they moved it and we weren't able to match them," Kornberg said.
"So the challenge for our boys will certainly be around our intent to work and our effort. There were certain patches of the game where we played our way but we just had lapses throughout the game and Oakleigh are a good side who'll make you pay."
Kornberg sung the praises of defender Angus McLennan, forward Ben Williams and midfielder Rex Kilburn – all playing stoically against immense Oakleigh pressure in the opening fixture.
"I thought Angus McLennan was really good for us down back playing as a third tall defender, he was able to roll off his man and intercept really strongly which is his main attribute," Kornberg said.
"Ben Williams as a small forward was really lively and put on a lot of pressure, he's probably the quickest bloke on our team so he put on a heap of pressure and energetic speed around our forward line which was super.
"Rex Kilburn also worked really hard in the midfield, he just willed himself to as many contests as he could. He's our captain and he leads by example."
Kornberg says the team honed in on their strengths during the pre-season, aiming to get the boys to think positively about how they contribute to the team as opposed to stressing over their weaknesses.
This mantra has been repeated throughout the program in 2019 and was a key pillar in the team's strong build-up to the carnival.
"Our preparation in the practice matches and throughout preseason was really good, we came up against some quality opposition in Dandenong and Oakleigh, as well as having the opportunity to play against the U18 bottom-agers from our NAB League side," Kornberg said.
"It's been a really positive vibe amongst the playing group – we've built a really strong culture based around remembering what they can do not what they can't do and focusing on what they bring to the table from a strength point of view."
The second and final game of the Dragons' U16 carnival gets underway from 10am this morning ( Tuesday April 16) against the Eastern Ranges at Wilson Storage Trevor Barker Beach Oval.